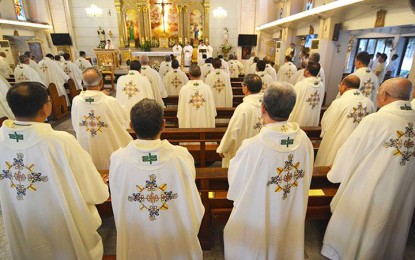 MANILA – Members of the clergy in the dioceses of Pampanga and Manila are free to decide on whether or not to stick with the traditional marking of the cross on the foreheads of the faithful on Ash Wednesday next week.
"The imposition of ashes on the forehead remains an option for our parishes and communities at the discretion of their pastors," said Circular Letter 17, Series of 2020, issued by the Pampanga archdiocese on February 21 and Circular 2020-11 issued by the Manila archdiocese on February 18.
The Archdiocese of Pampanga, however, urged priests to just put water on the feet of the faithful instead of touching and kissing these during the Mass on Maundy Thursday.
The Archdiocese of Manila, meanwhile, reminded the faithful of the true meaning of the 40-day Lenten season that starts on February 26.
"As we begin the season of Lent, we are reminded of the constant call for renewal in our Christian life by self-control (fasting and abstinence), generosity and charity (almsgiving) and prayer," it said.
On Thursday, the Catholic Bishops' Conference of the Philippines (CBCP) issued additional liturgical guidelines on the coronavirus disease 2019 (Covid-19).
As a precautionary measure, it recommended the sprinkling of a small portion of blessed ash on the crown of the head of the faithful instead of marking the forehead with a cross.
The CBCP also said that instead of kissing or touching the Cross for veneration, the faithful could just genuflect or make a profound bow.
Meanwhile, the Diocese of Caloocan asked the faithful to wear face masks during the "Kumpisalang Bayan" (mass confession).
"During confessions, whether inside the confessional box or outside, both priests and penitents are advised to wear protective masks. Ideally, the penitent brings his/her own mask. Parishes should be ready to provide for those unable to bring their own," the diocese said in a statement.
It added that penitents are also allowed to confess their sins by writing them down on a sheet of paper and handing them personally to the priest after saying the introduction, "Bless me, Father, for I have sinned."
"After 'reading' their confession, the minister may ask the penitents some questions thereafter, give some admonition, recommend acts of penance and give absolution verbally. The priest gives them back their notes for proper disposal afterward," it added. (PNA)