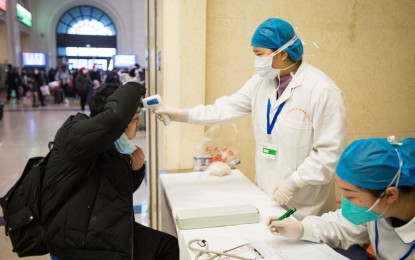 MANILA – The Department of Health (DOH) is studying the possibility of extending the prescribed coronavirus disease (Covid-19) quarantine period following reports that incubation could be much longer than the presumed 14 days.
Health Assistant Secretary Maria Rosario Vergeire made this remark after Chinese authorities confirmed that a 70-year-old man in China's Hubei Province was infected with Covid-19 but did not show symptoms until 27 days later.
"All of these plans and interventions are evolving, once we see and assess that we would need to extend our quarantine period and then we may be doing that because of these factors," Vergeire said in a Laging Handa press briefing in Malacañang on Monday.
Vergeire acknowledged that incubation period varies from person to person, but the 0 to 14 day-quarantine period "is still valid as of this time."
"We get our guide and direction or recommendations from the World Health Organization and the Center for Disease Control of the United States… still at this point, [they] have their working incubation period at 0 to 14 days," she said.
She said the DOH could revise its guidelines based on experiences on the ground such as longer incubation period.
"We are not saying that for now it's really 14 days. We are going to be assessing them every day, regularly so that we will know on how we can deal with the situation," she said.
As of February 22, all Filipino repatriates from Wuhan previously underwent the prescribed 14-day quarantine at the Athlete's Village were released after testing negative for Covid-19.
Vergeire said that despite having a clean bill of health, these repatriates will still be monitored for one month.
"They were advised that our regional offices through our local governments would be still monitoring them for one month. Anybody who exhibits signs and symptoms can always call the hotline and also we have their numbers, we would be texting and calling them for follow up," she said.
Currently, 59 out of 538 Filipinos aboard M/V Diamond Princess in Yokohama, Japan have tested positive for Covid-19 while two have recovered.
An estimated 400-plus Filipinos aboard the ship will be repatriated as soon as they comply with the established quarantine protocols of Japan.
Vergeire said the Filipinos from Japan will be required to undergo another 14-day quarantine period when they arrive home.
"It was part of the decision of the Inter-Agency Task Force (on Emerging Infectious Diseases) to have another 14-day quarantine period here in the Philippines because of that consideration where we have assumed that the exposure of these individuals are sliding and not at the same day or at the same time," she said.
Cabinet Secretary Karlo Nograles said the Japanese government has ensured that any affected Filipino is provided proper medical treatment and care in their hospitals and health facilities.
He said the Philippine government is working closely with Japanese health and foreign ministry officials to complete the quarantine protocols and repatriate Filipino crew members and passengers as soon as possible.
Meanwhile, Nograles thanked the Civil Service Commission for clarifying that the absence of public sector officials and employees during the 14-day "self-quarantine" including those who were diagnosed with Covid-19, will not be deducted from earned leave credits.
He also appealed to the private sector to consider extending the same benefit to their employees.
SoKor situation
Following the sharp rise in the number of Covid-19 cases in South Korea, Nograles said the task force is set to discuss the imposition of a possible travel restriction to the East Asian country.
"Sa ngayon, wala pang desisyon. Pag-uusapan ito sa task force (At present, there is no decision yet to impose travel restriction. This will be discussed by the task force). I-a-assess natin yung (We will assess the) situation and based on existing protocols natin pati (and the) recommendation from the WHO, 'yun po yung magiging basis natin (that will be our basis) for making a decision if ever," he said.
Foreign Affairs Assistant Secretary Eduardo Meñez assured that the embassy in Seoul has also released safety advisories for Filipino workers in South Korea to follow to prevent the spread of Covid-19 such as frequent handwashing, and avoiding non-essential travel.
Recently, the South Korean government raised the Covid-19 alert level to the highest "Red" after the number of confirmed cases has risen to 763.
To date, there are no Filipinos in South Korea confirmed to be infected by the deadly disease.
Covid-19 research
Nograles bared that the Department of Science and Technology (DOST) is working with a medical center overseas that has agreed to collaborate with our Research Institute for Tropical Medicine (RITM) in the development and possible use of a diagnostic test for detecting antibodies to the Covid-19 virus.
While purely for research purposes only, Nograles said this testing procedure will enable us more to accurately determine past infections, as well as new or recent infections to Covid-19 from collected samples of PUIs.
Academicians are also spearheading the initiative of identifying the efficacy of Virgin Coconut Oil (VCO) in combatting Covid-19 and are preparing to send the samples of VCO for testing within the week.
To prevent local transmission, Nograles said government has activated Barangay Health Emergency Rescue Teams (BHERTS) in all barangays in the country to help cities and municipalities monitor, report, and isolate potential Covid-19 cases in communities.
In the Philippines, there are 132 patients under investigation (PUIs) for Covid-19 who are currently admitted in hospitals. On the other hand, 474 PUIs having been discharged after testing negative.
Quoting the DOH, Nograles said there are now zero confirmed Covid-19 cases in the country. Out of the three initial confirmed cases, one has died while two patients have recovered and have since been discharged from the hospital. (PNA)