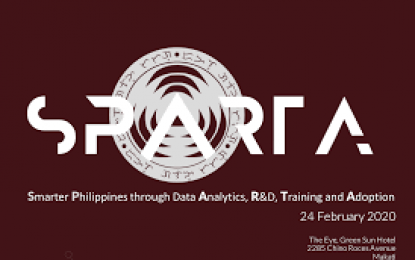 MANILA – The Department of Science and Technology's (DOST) "Smarter Philippines Through R&D, Training and Adoption" (SPARTA) program, which aims to produce 30,000 data scientists via online learning, was officially launched on Monday in Makati City.
"In 1992, I was a scholar of DOST at a university in Michigan. I studied signal processing, and part of our work was AI (artificial intelligence). When I came back in 1997, I taught many students on signal processing and AI, but there was no job for them. They ended up going abroad," remarked DOST Undersecretary Rowena Cristina Guevara.
She said the DOST is developing human resources through SPARTA which was designed to retain the trainees in the Philippines.
About 30,000 will be trained in data science and analytics, she said, adding that this will be a breakthrough of a "knowledge economy".
Guevara noted that people use data every day -- to move around traffic, to order food or clothes online, among many others.
Director Enrico Paringit, of DOST's Philippine Council for Industry, Energy and Emerging Technology (PCIEERD), emphasized that AI aims to develop smart solutions to the challenges that various industries are facing. These industries include the health and education sectors, information technology (IT), and business process outsourcing (BPO).
Data science, on the other hand, will provide opportunities for innovation, he added.
The DOST developed the SPARTA program, in partnership with the Development Academy of the Philippines (DAP), Analytics Association of the Philippines, and CourseBank.
DOST Secretary Fortunato dela Peña earlier said the agency has allotted PHP50.84 million for this project that would run for three years.
He added that DAP was tasked to choose the trainees.
On Monday, dela Peña said he was told that priority would be given to those working in the BPO sector, government workers who use data analytics in their jobs, and the academe.
"This program intends to create 30,000 data scientists, he reiterated.
Dela Peña continued, "Data can fast-track Philippine growth, in every aspect. In the ease of doing business, for instance, we could do many things using data".
Meanwhile, those interested to undergo the training must first create an account at www.coursebank.ph.
A link to "become a SPARTA scholar" would appear upon registration. Follow the step-by-step guide for application. (PNA)