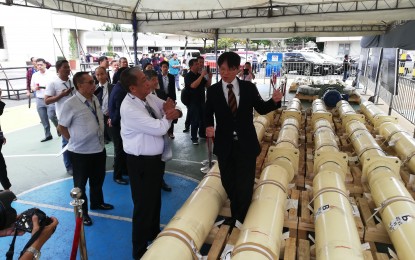 MANILA – The first tunnel boring machine (TBM) to be used in the construction of the Metro Manila Subway will be delivered in August of this year, about four months ahead of schedule.
In an interview during this year's first 'Transport Talks' on Monday, Department of Transportation (DOTr) Undersecretary for Railways Timothy John Batan said JIM Technology, Inc. (JIMT), the Japanese firm contracted to manufacture the six TBMs for the subway, will complete the first TBM by June.
"Makapag-umpisa tayo ng tunneling natin within this year (We'll be able to begin tunneling within this year)," Batan said.
He said manufacturing one TBM was originally projected to take 13 months at the earliest, according to its manufacturer. But after a meeting last December between JIMT and the DOTr, the manufacturing time was cut short to 11 months.
"But still, (DOTr Secretary Arthur Tugade) asked if it can be further accelerated. So, we're now looking at nine to 10 months for the first unit," he added.
After its delivery in August, Batan said the TBM will begin tunneling from the East Valenzuela Station in Barangay Ugong in Valenzuela City towards Quirino Highway Station.
The excavation for the 15 stations of the subway will start months earlier or by the second quarter of this year, he added.
Once all six TBMs are delivered, Batan further said the tunnel will run down from Valenzuela City "through Quezon City, all the way to NAIA Terminal 3, and all the way to FTI and Bicutan Stations where it will integrate with the North-South Commuter Rail – yung linya natin (our line) from Clark to Calamba."
He said the subway will be partially operational by end of 2021 or early 2022, more than three years ahead of its projected completion by end of 2025.
"Literally, you can ride a subway train in Valenzuela, and get off at Calamba, without transferring any trains or any stations," he added.
The TBMs, Batan said will be an "earth pressure balancing type" with a diameter of about seven meters for its cutting head, about as tall as four adults standing on top of each other.
During the event, the DOTr also showcased some spare parts of the coming tunneling machines, such as shield jack, cutter reduction gear motor, main bearings, and articulation jack.
According to the DOTr, TBMs have the advantage of limiting the disturbance to the surrounding ground and producing a smooth wall tunnel compared to conventional "hand mining."
It added TBMs "significantly reduce" the cost of lining tunnels and such machines were suitable for use in heavily urbanized areas. (PNA)