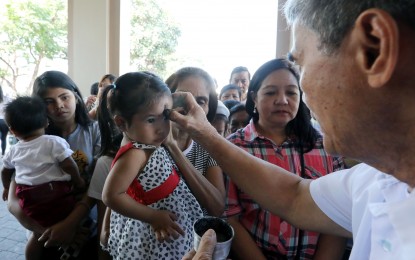 MANILA — The Diocese of Boac in Marinduque will stick to the traditional marking of crosses on the faithful's foreheads on Ash Wednesday.
"Well sa amin, una, very traditional ang aming simbahan, second wala naman kaming case (of coronavirus disease 2019) dahil kami naman ay isla hindi naman kami masyadong dayuhin (for us, first our church is very traditional. Second, we do not have a case because our place is an island and there aren't many visitors). So I don't think we need to panic in that sense," Boac Bishop Marcelino Antonio Maralit Jr., said in an interview over Church-run Radio Veritas Tuesday.
Maralit, however, said he understands the decision of other prelates to take measures against the spread of the disease.
"They have made these decisions considering the population and the urban setting in their areas. But since we are very provincial and insular, it is not much of a concern for us," Maralit said.
Last week, the Catholic Bishops' Conference of the Philippines (CBCP) recommended the sprinkling of ashes on the head of the faithful instead of the traditional marking of the cross as part of efforts to contain the spread of Covid-19.
The Archdioceses of Manila and Pampanga are leaving the discretion to their priests if they want to follow what is being practiced traditionally or follow the recommendation of the CBCP.
The CBCP also discouraged the public from kissing or touching the cross for veneration instead urged the faithful to genuflect or make a profound bow as a sign of veneration.
Ash Wednesday, which falls on February 26 this year, marks the start of the 40-day season of Lent to commemorate the sacrifices, crucifixion, death, and resurrection of Jesus Christ. (PNA)