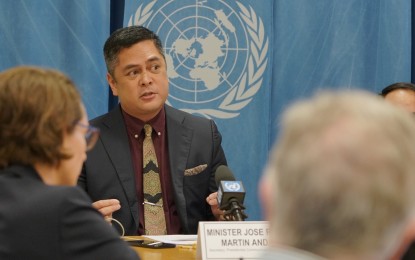 MANILA — Media outlets in the Philippines currently enjoy press freedom under the watch of President Rodrigo Duterte, Presidential Communications Operations Office (PCOO) Secretary Martin Andanar said Tuesday.
During a media engagement at the United Nations (UN) in Geneva, Switzerland, Andanar stressed that press freedom is "very much alive" since Duterte became President in 2016.
Andanar noted that the Duterte government has created an "enabling media environment" and a "safe space for journalists."
"The Philippines enjoys a long-standing history of press freedom. This should attest that press freedom is very much alive in the Philippines," he said.
His statement came as critics slammed the current administration's supposed attempts to curtail press freedom.
Some have claimed that the alleged effort to block the renewal of local broadcast firm ABS-CBN's legislative franchise, which expires on March 30, is clearly an issue of press freedom.
Andanar said the narratives against Duterte and his administration are "written out of context, some without basis, and others, outright lies."
"There are a lot of stories criticizing the government of President Rodrigo Duterte, including issues regarding media information… It is our job to challenge and to clarify these inaccurate stories, and to simply tell the truth," he said.
Andanar denied that private media companies are under attack.
He said the existence of baseless and false reports to discredit Duterte merely proves that Philippine media can freely exercise the freedom of the press.
"The fact that such articles, reports, and accounts exist, indicates that there is a free press in the Philippines — no censorship, no persecution," Andanar said.
There are around 2,501 private media outlets and 34 state media outlets, as of 2018, according to the data cited by Andanar.
Protection of media rights
Andanar assured the Duterte administration is exhausting all efforts to protect the rights of the media.
He said the government sought the passage of the proposed Media Workers' Welfare Act that will give media workers equal protection, security, and benefits.
"At present, the Duterte administration is now pushing for the passage of the (proposed) Media Workers' Welfare Act in Congress, a bill which seeks to address the vulnerabilities of the media by uplifting their economic welfare, benefits, and skills, thereby creating an environment that is conducive to an empowered, independent and free media," Andanar said.
House Bill (HB) 2746 or the Proposed Media Workers' Welfare Act filed in July 2019 seeks the granting of mandatory additional insurance benefits by the Social Security System and the Government Service Insurance System, including death and disability benefits, and reimbursement of medical expenses.
HB 2746 also creates a Commission on Press Freedom and Media Security that will serve as media workers' safeguard from all forms of attacks and as a development center for journalism.
To date, cases of media killings and reports of threats against journalists are being addressed by the Presidential Task Force on Media Security, which was created through Administrative Order 1 inked in 2016. (PNA)