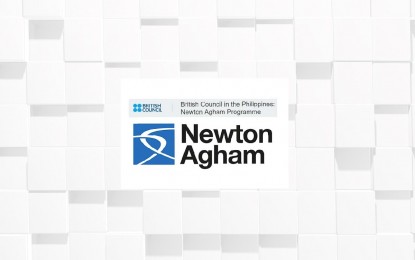 MANILA – Six Filipino researchers were granted PhD scholarships on Wednesday through the Department of Science and Technology (DOST) and British Council's Newton Fund Program.
This research and innovation program aims to support the economic development of the country, recognizing that science, technology and innovation capability are all vital to long-term sustainable growth, and in developing new technologies beneficial to society. The UK and Philippine governments co-fund this program.
In a phone interview with the Philippine News Agency (PNA), DOST Assistant Secretary Leah Buendia said this is the first time that the recipients of the PhD scholarships were all female.
"There were only five males out of the 19 applicants," she said.
Since the DOST-Newton Fund program's establishment in 2015, it has already supported 15 PhDs, provided two Researcher Links Travel Grants, eight Research Links Workshop Grants, and one Institutional Links Grant.
"Ït's also the "first time that we have the Institutional Links Grant. For now, we only chose one grantee, because a huge budget is needed. For two years, the Philippine government would provide 10 million pesos while the UK government would also provide PHP10 million or approximately 150,000 pounds (sterling) for this," Buendia remarked.
The six Filipina researchers are Criselda Bautista from the Research Institute for Tropical Medicine, Maria Carmen Fernandez from Far Eastern University, Maria Jowina Galarion from the University of the Philippines-Manila, Carla Mae Pausta from De La Salle University, Pamela Louise Tolentino from University of the Philippines-Diliman, and Julianne Vilela from University of the Philippines-Los Baños.
Buendia said the Philippine government would shoulder their airfare and stipend, while the UK government would shoulder their tuition fees.
Three of them will study at the University of Glasgow, while the others will study at the University of Cambridge, University of Surrey, and Lancaster University.
Meanwhile, the Institutional Links, which "provides small-scale seed funding for research collaborations to access new research environments, facilities, knowledge and expertise to enhance the quality of their research", was awarded to Nelson Enano and his home institution, Ateneo de Davao University. He will work with the University of Strathclyde in utilizing marine renewable energy to satisfy community energy demands and stimulate socio-economic development within the country.
The Researcher Links Workshop Grant, which supports international researches relevant to development, was awarded to the following: Tirso Ronquillo from Batangas State University, with University of Wolverhampton as partner; Aleyla Escueta-de Cadiz from University of the Philippines Mindanao, who collaborated with London School of Hygiene and Tropical Medicine; and Lourdes Bernadette Sumpaico-Tanchanco from Ateneo School of Medicine and Public Health, who partnered with Public Health England.

The workshops will take place between October 2020 to February 2021, according to the British Council.

Buendia said the DOST-Newton Fund program is open to everyone. The DOST announces call for applications for this, and many experts are involved in the screening process, she added. (PNA)