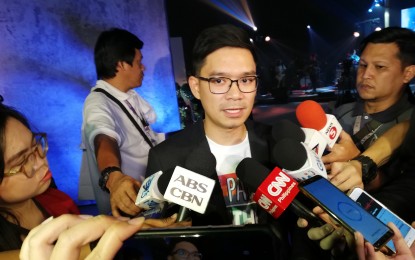 MANILA – The Department of Tourism (DOT) is set to ramp up its marketing of the country's tourism industry amid the coronavirus disease 2019 (Covid-19) scare in the Southeast Asian region, an official said on Thursday.
During a media launch, DOT Assistant Secretary Howard Lance Uyking showcased some of the department's new advertising materials meant to bolster tourism in the Philippines and set it apart from its neighboring countries.
The DOT's newest advertisement was dubbed "ABAKADA: Your Letter Guide to Philippine Culture"—a video ad showcasing several of the country's natural wonders through an informative rap song.
In an interview, Uyking said the new ads will be marketed to countries mostly unaffected by the Covid-19 epidemic—including most of Europe and North America.
"We will still continue promoting especially to these countries na hindi naman tinatamaan (that are not affected). So, if we deem a country to be a danger to the health of our citizens, dun po tayo naglalagay ng (that's where we place a) temporary ban," Uyking said.
Some of the networks the ads will be aired, he said, include CNN, National Geographic, CNBC, BBC, and Discovery—as well as networks catering to family-friendly content such as Cartoon Network and Nickelodeon.
Aside from ramping up the country's marketing in the international tourism sector, he said several programs of the DOT will also boost the country's domestic tourism through March's month-long mall sale and "seat sale" promotions.
"We're taking the opportunity, that instead of going abroad, why don't you come to visit the Philippines? It's safe here. The protocols are in place for all of our airports. Nakatulong pa kayo sa ating ekonomiya (You've even helped our economy)," Uyking said.
By the beginning of next month, he said, seat-sale promotions—as well as bargains for hotel accommodations—will be more available as the DOT has started to negotiate prices for these services with the Philippine Hotel Owners Association and other commercial groups.
"We're getting a lot of tour packages. By March 1, dadami pa 'yan (there will be more)," Uyking said.
He also reiterated that through joint discussions with the Department of Health and the Department of the Interior and Local Government, public gatherings--especially in commercial establishments like malls—are generally safe since such establishments have put up necessary precautionary measures such as temperature checks.
"It's been safe, it has been more than two weeks already since the last case, and itong mga cases na 'to, hindi naman locals (these cases, they're not locals). So, there's no local transmission here," Uyking said.
Last week, the DOT announced its plans for a month-long national mall sale in March dubbed as the first Philippine Shopping Festival.
DOT Secretary Bernadette Romulo-Puyat said the promotion was meant to increase spending on the most common tourist activities in the Philippines—shopping, and travel—to mitigate the effects of the Covid-19 epidemic in the country's top tourist sources—China and South Korea. (PNA)