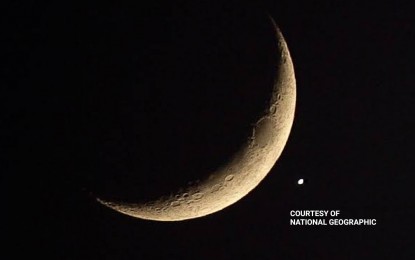 MANILA – An astronomer from the Philippine Atmospheric, Geophysical and Astronomical Services Administration (PAGASA) said on Friday the conjunction of the moon and planet Venus is a normal phenomenon, noting it has no adverse effect on Earth.
Astronomer Mario Raymundo said the conjunction has no effect, whether on the weather or climate.
"Conjunction is normal, not a big deal. The thing is that, for those who are into photography, this looks good on photos," he told the Philippine News Agency.
Raymundo clarified that its eyesight, it only looks like the moon and a planet is too close with each other.
"The distance between them is still far," he said.
"Conjunction happens when two or three (celestial) objects meet in one quadrant. It (conjunction) happens regularly," Raymundo said, adding that It happens often they could not estimate when exactly it would take place.
He added that in February alone, PAGASA's astronomy diary already logged the moon's conjunction with Mars, Jupiter, and Saturn.
Raymundo said there are many apps that can be used to determine which specific planet is in conjunction with the moon. The moon takes about 29.5 days to complete a revolution, he added.
He added that PAGASA astronomers have no photo of Thursday's conjunction.
"Because the distance (between them) was about 7 degrees. Our lenses would not be able to capture that. It has to be less than 2 degrees," he said. (PNA)