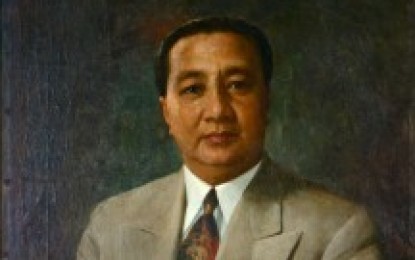 MANILA – President Elpidio Quirino's death may well be considered as the most unique among the country's deceased former chief executives, as he passed away on a leap day.
Quirino, the sixth president of the Philippines, succumbed to a heart attack on February 29 in the leap year of 1956 at his summer residence at the top of a hill overlooking the scenic La Mesa dam and reservoir in Barangay Greater Lagro, Novaliches, Quezon City. He was 65.
Succeeding the late President Manuel A. Roxas in his capacity as vice president, Quirino became president from April 17, 1948 to Dec. 31, 1949.
In the Nov. 8, 1949 national elections, Quirino was elected formally as the sixth president of the Philippines for a four-year term until the end of 1953.
According to the Kahimyang Project's compilation of significant daily events, including ancient and recent Philippine history, Quirino's six-year presidency was marked by notable post-war reconstruction, general economic gains, and increased economic aid from the United States.
It was in the realm of diplomacy where he excelled, impressing foreign heads of states and world statesmen from American, European and Asian countries. He negotiated various treaties and agreements with other nations, as well as discussed common problems of peace and security in the Asian region.
His administration's major objectives included economic reconstruction, focusing on mitigating the sufferings of indigent families, helping the farmers market their crops to save them from loan sharks, and strengthening the rural banking system of the Philippines to facilitate credit utilities in rural areas.
It was during the Quirino administration when the country's Central Bank was established.
Quirino, who also served as congressman and senator before his presidency, was also a known member of the Philippine independence commission sent to Washington DC, which secured the passage of the Tydings-McDuffie Act by the American Congress. He was a member of the convention that wrote the draft of the 1935 Constitution.
After being defeated by Ramon F. Magsaysay in the November 1953 presidential elections, Quirino went back to private life at his then-new home near the La Mesa Dam. (PNA)