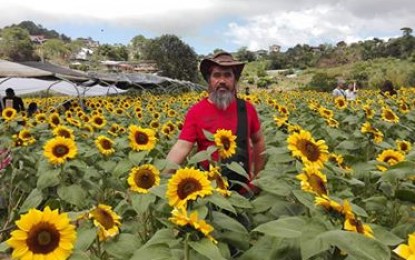 LA TRINIDAD, Benguet – Hundreds of visitors flock daily to the newly-opened DarJane's Garden that mainly features cultured sunflower.
"We were not expecting that tourists will be flocking our farm since its soft opening. These sunflowers should have been sold during Valentine's Day here and in Manila, however, due to the unexpected drop in our temperature, we were not able to harvest it on time," DarJane's Garden owner and cut flower grower Dario Montes told the Philippine News Agency (PNA) on Saturday.
Montes said a total of 12,000 sunflowers were planted on the 1,500 square-meter field.
He said as a cut flower grower, not being able to harvest flowers on time means big losses.
"It was really an accident, after not being able to harvest it after 50 days, we have decided to open it to the public for viewing to recover the financial losses and turned out to be just perfect," he said.
He added that the move was also to boost the tourism industry in Benguet.
"Since the opening last February 19, with the help of social media, visitors flocked daily to marvel and take photographs with our blooming sunflowers," he said.
Tourists can also enjoy free sweet potatoes and Benguet brewed coffee after their tour in the fields. Organic vegetables are also sold.
"These farm-produced vegetables are from my neighbors and we are planning to put up a one-stop-shop here for the tourists," he said.
Entrance to the sunflower fields is PHP120 for adults and PHP100 for students, persons with disabilities, and senior citizens.
A cut sunflower is sold for a minimum of PHP25 and may vary depending on the size. The family-owned tourism site is targeting to formally open it on Holy Week when thousands of tourists are expected to visit the country's summer capital.
"This is only the beginning, we are planning to come up with a tour package to our future clients featuring other tourist destinations such as the coffee plantation, waterfalls, rivers, and the mountains," he said.
Darjane's Garden is just 12 kilometers away from Baguio City.
Visitors can take a jeepney ride from Magsaysay Avenue for the Acop-Tublay route to get there and alight in front of Tacdian Elementary School where garage vehicles are waiting to bring visitors -- PHP60 per person -- to the garden.
The place is about an hour ride to the flower farms in Atok where the "northern blossom flower farm" and Haight flower farm's cabbage roses can be found.
The Sakura flower farm that blooms in June is also at the Haight flower farm. (PNA)