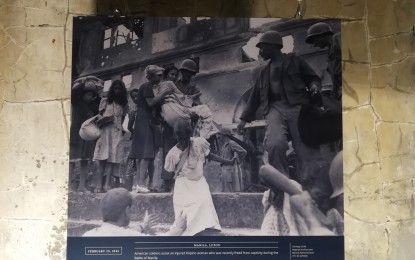 MANILA — Some iconic and never-before-seen photos of the Philippines and the events during World War II are on display at Fort Santiago in Intramuros for the 75th anniversary of the Battle of Manila.
Titled "Allies for Freedom", the United States Embassy-funded exhibit features photos, the majority of which were taken by US Army photographers when the Japanese Imperial forces attacked Luzon in 1941.
Intramuros Administration chief Guiller Asido said this is the first time for such initiative to be held at the historic American Barracks Ruins inside the walled city.
"This is really the perfect spot for us to focus on the heroism and resiliency of Filipino and American soldiers during the Second World War," Asido said on Tuesday. "This exhibit is significant because it's the 75th anniversary of the Battle of Manila. It's a place that's really part of the story during the war."
In a speech, US Embassy Deputy Chief of Mission John Law underscored the exhibit's importance as proof of Manila and Washington's "bonds".
"We remember and pay tribute to the soldiers and the civilians who fought as allies for freedom and forged an unbreakable bond, which joins the hearts of Filipinos and Americans even today. I have every confidence that with your help, those bonds will continue to grow and flourish for generations to come," he said.
The exhibit was curated by Merrion and Smith with photographs taken from the US National Archives and Records Administration, AP Images, Getty Images, and the International Center of Photography.
A portion of it reflected "Bayanihan" or community spirit even among American soldiers seen guiding civilians to safety and assisting the wounded held captive by the Japanese.
The photos, which date back as far as the liberation, also gave a glimpse of how two countries built a longstanding alliance based on solidarity established during the period. (PNA)