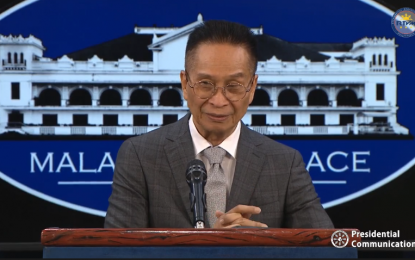 MANILA – The government should go after the erring people who are running the Philippine Offshore Gaming Operators (POGOs), instead of focusing on getting rid of the gaming industry, Malacañang said on Wednesday.
Speaking to Palace reporters, Presidential Spokesperson Salvador Panelo said the recent controversies besetting the POGO industry stemmed from the irregularities perpetrated by those who are working in the offshore gaming firms.
"It's not the POGO itself. It's the people running it. Then, you change the people, not the system. You improve on the system. You prosecute those involved in the illegal activities," he said.
Panelo's statement came a day after the Senate agreed to craft a measure that would declare POGOs "illegal" amid the rise in illicit activities connected to the offshore gaming firms.
Chinese-run POGOs have drawn flak for supposedly violating the country's laws on labor, tax, immigration, and national security, among others.
In a privilege speech on Tuesday, Senator Richard Gordon warned of a "creeping invasion" with the emergence of POGOS and crimes linked to it, such as money laundering, corruption and prostitution.
Gordon's worry prompted Senate Minority Leader Franklin Drilon to ask his colleagues to consider crafting legislation that would eventually stop the operations of POGOs in the country.
Panelo said the Palace would also assess whether declaring POGOs as illegal is good for the country or not.
He, however, said the final decision would come from President Rodrigo Duterte.
"The legislators are tasked to legislate what is good for the country. If they feel that it's against the welfare of this country, then we will evaluate if that's true or not. But we will wait for them," Panelo said. "If the legislators make it unlawful, ibang usapan na 'yun (it's a different story). Then we will have to wait for the President whether he agrees with it or not."
There are around 60 licensed POGOs in the country.
A moratorium on new licenses for POGOs has been imposed until issues surrounding the operations of online gaming are addressed.
Amid the mended ties between the Philippines and China, Panelo guaranteed that POGO workers, who are Chinese nationals, are not receiving "blanket protection" from the government.
He maintained that there are "no sacred cows" under Duterte's watch.
"Nobody is enjoying any blanket protection from this government. No sacred cows, regardless of who they are," Panelo said.
Panelo also vowed that the government would prosecute POGO workers who are involved in illegal activities.
"What is important is we respond to whatever allegations of corruption and malpractice. We prosecute. We do not countenance it," he said. (PNA)