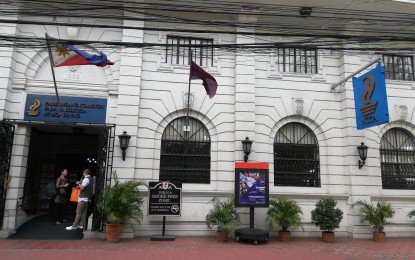 MANILA – In its bid to bring its message to more people, especially the millennials, the National Commission for Culture and the Arts (NCCA) is currently exploring various platforms that seem more appealing to the audience.
"We are looking for ways to entice more audience, the millennials," NCCA deputy executive director Marichu Tellano told the Philippine News Agency (PNA) in a recent interview.
So far, the NCCA is exploring platforms such as teleserye (soap opera), film, animation and next year, music, she said.
Tellano said that before the end of 2020, the NCCA will put up a film exhibition, showcasing 19 short films it would select and fund.
"Around October last year, we announced a call for submission for films that highlight the Filipino values we came up from research. We received 105 entries, and we are currently in the selection process," she said.
The NCCA will select the top 19 films, and will provide a maximum of PHP350,000 to each of the 19 entries to produce the film, Tellano added.
The Commission "is also attempting to do animation," and currently is finalizing the details of a contest that would also highlight the 19 values via animation.
For two years, the NCCA did a research and held focus group discussions with various sectors, such as the indigenous people, the academe, businessmen among others, to know what is/are important for them as a Filipino.
Out of those discussions, the NCCA came up with 160 values and trimmed the list to 19.
"We are looking for platforms like animation, teleserye, that would neither be hard sell nor propaganda," she remarked.
Tellano continued: "We want it to be something that would make our audience feels good at the end of the day."
She further bared that the NCCA is planning to organize a songwriting contest, wherein the 19 values will also be highlighted. The NCCA is now working on the mechanics, and eyes having Ryan Cayabyab as the judge.
"This (music-related) will be for next year. We might put up a concert to feature the winners," she said.
The NCCA, meanwhile, recently launched its first teleserye "Project Destination", which will begin airing on March 14, every Saturday for six episodes. The Commission has allotted PHP14 million for this project, with a goal of showcasing the 19 values without conducting lectures across the country. (PNA)