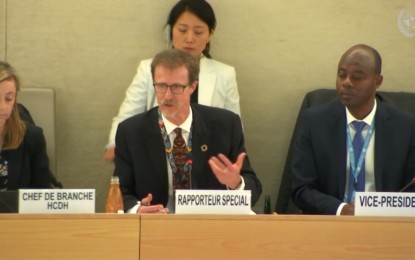 GENEVA, Switzerland – United Nations Special Rapporteur on Environment David Boyd recognized as good practices the Philippine government's robust policies to realize the right to a safe, clean, healthy and sustainable environment.
In his report at the 43rd Human Rights Council Session in Geneva on Monday, Boyd cited the Philippines as among the countries where this right is fully incorporated into national legislation, serving as a "unifying principle that permeates legislation, regulations, and policies."
He further cited the country's explicit legal recognition of the right to breathe clean air through the Clean Air Act that provides a comprehensive air quality management policy and program.
"In the Philippines, the Climate Change Act of 2009 requires the State to incorporate 'a gender-sensitive, pro-children and pro-poor perspective' in all climate change and renewable energy efforts, plans,, and programmes," Boyd said in his report, referring to the country's imposition of pollution fees as a good practice in effectively using taxes toward reducing environmental threats.
In the Nationally Determined Contributions that comprise State commitments to the Paris Agreement, he acknowledged the Philippines as one of the few States that institute a rights-based gender-sensitive approach to climate action, and one of the even fewer states that specifically mainstream the promotion and protection of the rights of indigenous peoples in their national climate strategy.
He highlighted the UN Food and Agriculture Organization's identification of agroecology policies in the Philippines as a winner of Future Policy Awards in 2018 "for scaling up agroecology, improving the livelihoods of small-scale food producers, ensuring sustainable food production systems and implementing climate-resilient agricultural practices."
He also cited the positive recognition of agroecology practices in the Philippines by the World Future Council in 2019.
Positive examples
Meanwhile, Ambassador Evan P. Garcia, Permanent Representative to the UN in Geneva, said, "in addition to these good practices, Philippine landmark jurisprudence on environmental cases set positive examples worldwide of government leadership in ensuring access to justice and effective remedies in order to truly operationalize this right to a healthy environment."
The Philippines introduced the writ of kalikasan or writ of nature, a first-of-its-kind special civil action and judicial remedy granted to petitioners of environmental cases.
Another remedy, he added, is the writ of continuing mandamus that allows the court to require from government agencies a series of actions until judgement is fully satisfied.
Other measures in place in the country include waived filing fees to make environmental litigation accessible, issuance of environmental protection orders, and the application of the precautionary principle, among others.
Garcia affirmed the government's full support for the mandate of Boyd on the
environment and underscored the need for collective affirmative action on environment and climate as these underpin the achievement of the 2030 Sustainable Development Goals (SDG) Agenda. (DFA)