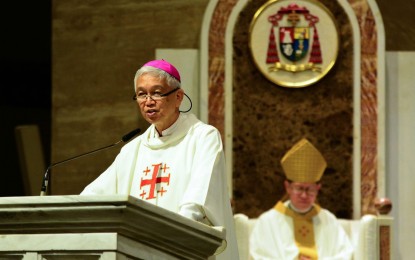 MANILA – The Archdiocese of Manila on Tuesday has issued precautionary measures for the members of the clergy in connection with the coronavirus disease 2019 (Covid-19) threat.
In "Pastoral Letter for Covid-19", Apostolic Administrator Bishop Broderick Pabillo urged them to stay healthy and pray for God's protection and intervention.
"While we pray, let us also exercise good stewardship over our health. In the spirit of Lent let us keep a healthy lifestyle so that our bodies may be strong enough to resist infections. Thus eat healthy food, have enough rest, keep clean get enough exercise and avoid unnecessary travels and gatherings of large crowds," Pabillo said.
He urged the clerics to take the following precautions in churches and institutions:
-Suspend the practice of dipping of hands in the Holy Water Font or Stoup. Empty all Fonts and let the faithful be informed that such practice will be temporarily suspended. Holy water can be made available for people to take home or sprinkling of the Holy Water can be done before or after liturgical gatherings.
-Put containers of 70-percent ethyl alcohol at various entrance doors accessible to the public in church institutions.
-Get medical attention for their good and the good of their family members. Priests and lay ministers who have flu-like symptoms should also refrain from serving. Thus is an act of charity that we can offer to the people.
-Routinely clean with disinfectants the high touch areas, pews, benches, doorknobs as well as microphone covers
-Observe cough etiquette (like covering their mouth with their sleeves or napkins which they should immediately dispose of in safe places). Frequent hand washing is to be promoted to all.
-Remind the faithful that there is no need to hold hands when praying the Lord's Prayer and when giving the sign of peace. For the time being, the beautiful Filipino sign of reverence in holding the hands of the priests and the elderly (the Mano Po) can be substituted by a slight bow with a smile or by a slight touch on the head for the giving of the blessing.
-All should refrain from the kissing and holding of statues and sacred images, and even the glass frames that protect them. Let barriers be installed so that people do not get near them to touch them.
-Let ministers and priests thoroughly wash their hands before they serve. For the time being, Holy Communion is to be received by the faithful by hand.
-Those parishioners who are weak or have non-communicable diseases like diabetes, cancer, etc. are encouraged to wear masks even during Holy Mass.
-Churches and adoration chapels with air conditioning and hardly any windows should be bio-misted. Open windows and doors after mass and shut off the air conditioning for the air, heat, and sunlight to circulate.
-Those who count money must wear masks and use alcohol after counting. They must also be provided with latex gloves. The World Health Organization (WHO) confirmed that the coronavirus may spread through money.
-Let the parishes be prepared for the economic effects of the Covid-19 phenomenon. The worst-case scenario would be the suspension of public gatherings.
"We need to save at this time of impending crisis. Let us make our church institutions resilient. At this time, let expenses be made only in what is essential in order to save for any eventualities," Pabillo said.
He also urged parishes to suspend purchases on capital expenditures and make their programs frugal.
"What we can save, let us put in a Disaster Resiliency Fund. In this way, in case we have no collections, we may sustain the salaries of our employees maintain our religious institutions," Pabillo added.
Meanwhile, the Cubao Cathedral has canceled its Lenten activities.
"Parish Pastoral Council of the Immaculate Conception Cathedral of Cubao, in consideration of the safety of its parishioners and volunteers, has decided to cancel all barangay stations of the cross, the senakulo, and the parish lenten recollection (both at the Cathedral and at Robinsons Magnolia)," it said on its Facebook account.
It added that regular activities such as the monthly formation program "Mahal na Ina" and the weekly "Dasalmusal" will be stopped "until further announcements".
Also, the planned activities like Visita Iglesia and the fundraising project for Casa Silencio (CASA 215) will be moved to later dates.
"We continue to ask the mercy of the Lord to end this epidemic," it added. (PNA)