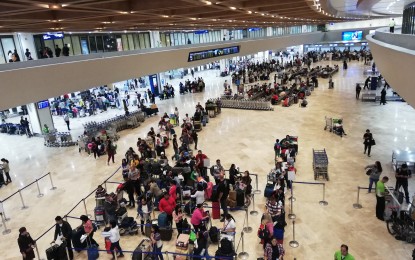 MANILA – Airports nationwide have stepped up measures to prevent the spread of coronavirus disease 2019 (Covid-19) which has been declared by the World Health Organization as a pandemic.
All Ninoy Aquino International Airport (NAIA) terminals have implemented thermal scanning and cleaning of the premises is done regularly.
Manila International Airport Authority manager Ed Monreal said the airport is cleaned "round-the-clock, every 30 minutes". Thermal scanners are set up to check the temperature of passengers.
The Civil Aviation Authority of the Philippines (CAAP), which operates 42 airports across the country, has also stepped up measures to contain the spread of Covid-19.
Sanitation of airport facilities is done every four hours. Passengers with high body temperature are given treatment by frontline responders.
"We hired additional cleaners so we could sustain cleaning (the airports) every four hours. We also hired nurses to assist the DOH," CAAP spokesperson Eric Apolonio said.
While every CAAP-operated airport has a medical team, hiring additional nurses was requested by area managers since they need to attend to the passengers.
Disinfectants are also available in all passenger terminal buildings while CAAP employees are encouraged to observe proper hygiene and minimize physical contact.
Local carriers earlier announced measures they have implemented in line with the rising Covid-19 concerns.
AirAsia Philippines screens passengers' temperature prior to boarding any international or domestic flight. Guests may also request for surgical masks, free of charge, upon boarding.
Philippine Airlines (PAL) has announced that its fleet is using high-grade industrial disinfectants. Passenger luggage and cargo hold are disinfected as well.
Cebu Pacific (CEB), on the other hand, focuses on cleaning passenger seats, armrest, tray tables, seat belts, and lavatories. It also requires meal suppliers to send their action plans on the prevention of Covid-19.
For CEB aircraft used by a confirmed Covid-19 case, the airline only deploys BOQ-trained and qualified disinfection providers to clean the aircraft.
Civil Aeronautics Board executive director Carmelo Arcilla earlier said the industry is facing "severe" challenges at this point and that the impact of Covid-19 on them is becoming "more intense".
At the NAIA alone, the number of passengers dropped to 30 percent in February compared to the same period last year.
Monreal said there was a decline of about 476,000 passengers last month.
The Philippines has 49 confirmed cases of Covid-19 with two deaths. (PNA)