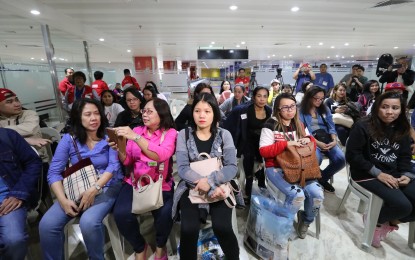 MANILA – Overseas Filipino workers (OFWs), balikbayans, and foreigners are allowed to leave the Philippines anytime despite the Luzon-wide enhanced community quarantine, a Palace official said late Tuesday night.
In a Palace press briefing, Cabinet Secretary Karlo Nograles said these groups will only have to show proof of international travel.
"OFWs, balikbayans, and foreign nationals leaving for abroad through any of the ports in Luzon shall be allowed to leave the Philippines at any time for the duration of the enhanced community quarantine provided that proof of international travel itinerary scheduled within 24 hours must be presented," Nograles said.
Earlier, the Department of Transportation (DOTr) said travelers of all nationalities would only be given 72 hours to leave the country.
He, however, noted that Filipinos will have to observe travel restrictions in place in the country.
Non-essential travel by Filipinos from any point of Luzon will be suspended, Nograles said.
He also assured that OFWs leaving for abroad will be given transport services by the Overseas Workers Welfare Administration (OWWA) and can be accompanied by only one person.
The Philippines is currently under enhanced community quarantine until April 12 to minimize the risk of catching and spreading the coronavirus disease 2019 (Covid-19).
This means that "strict home quarantine shall be implemented in all households; transportation shall be suspended; provision for food and essential health services shall be regulated, and heightened presence of uniformed personnel to enforce quarantine procedures will be implemented."
Health workers, authorized government officials, media personnel, those traveling for medical or humanitarian reasons, persons providing basic services, and essential skeletal workforce will be exempted from the quarantine.
President Rodrigo Duterte has placed the country under a state of public health emergency and a state of calamity due to Covid-19.
As of Tuesday, the Department of Health said there are a total of 187 confirmed cases of Covid-19 in the country, with 14 deaths.
More than 150 countries have been affected by the Covid-19 outbreak, which originated in Wuhan, China.
The World Health Organization (WHO) has declared the Covid-19 a pandemic, which means a worldwide spread of a new disease. (PNA)