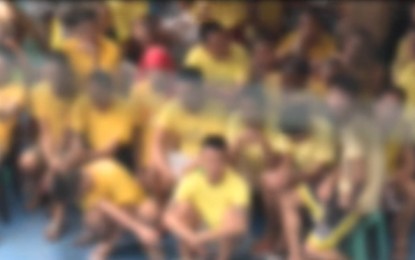 MANILA – Prison officials on Wednesday said measures are being undertaken throughout the country's penal system to mitigate the impact of the coronavirus disease 2019 (Covid-19) on the population of persons deprived of liberty (PDL) currently cramped in jails.
Speaking to newsmen, Bureau of Corrections (Bucor) spokesperson Gabriel Chaclag said that prison facilities remain Covid-19 free even as efforts are also being undertaken to prioritize groups vulnerable to infection.
"So far we have no PUIs (Persons under Investigation). BuCor remains Covid-19 free and we hope and pray to stay that way," Chaclag said.
He added that inmates are urged not to congregate and were provided with hygiene kits and protective masks.
"Some (kits) were issued weeks ago pa at syempre disposable mga yun. Yung mga possible na vulnerable groups ang inuuna bigyan po. (These were issued weeks ago and of course, these are disposable. The possible vulnerable groups were prioritized." he said.
Health officials have warned that individuals with underlying health issues as well as those of older age are the most vulnerable to the virus.
Chaclag added that BuCor Director General Gerald Bantag has ordered strict measures in line with the government's national action plan against the Covid-19.
He said since Luzon is under an enhanced community quarantine, "all facilities are off-limits to visitors except food deliveries" that go through a screening
The BuCor has also purchased personal protection equipment (PPEs) and misting machines to disinfect areas, personnel, and equipment.
"We are always in coordination with local authorities and have established arrangements with partner hospitals in case of a covid19 incident. We are also conducting an information drive for the PDLs to be educated in personal hygiene to fight the spread of diseases. All this we do in all prison camps and continuously assess our readiness," he said.
He added that the measures were first undertaken at the New Bilibid Prison (NBP) in Muntinlupa and all other prisons subsequently.
Meanwhile, jails run by the Bureau of Jail Management and Penology (BJMP) under the Department of the Interior and Local Government (DILG) for detained persons with pending criminal charges said they have undertaken efforts to protect PDLs' health under the present health crisis.
"As of today (Wednesday), I understand, all court hearings remain suspended. As far as the BJMP is concerned, we are putting all efforts to shield the PDL under our care including personnel from Covid-19," said BJMP spokesperson, Chief Insp. Xavier Solda, in a statement.
Solda, however, said the release of PDLs, regardless of the nature of their offense, is for the court to decide.
"We're just implementing the orders. Nonetheless, we submitted already a manifestation for temporary suspension of court hearings until this public health emergency is lifted, to protect our PDLs and personnel," he added. (PNA)