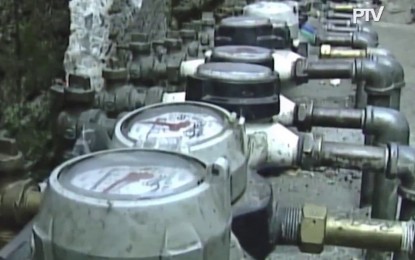 MANILA – To prevent a looming water crisis in Metro Manila, President Rodrigo Duterte has ordered all government agencies, government owned and/or controlled corporations (GOCCs), and state universities and colleges (SUCs) to strictly implement water conservation measures.
Administrative Order (AO) No. 24, signed by President Rodrigo Duterte on March 18, directs national government agencies, GOCCs, and SUCs, especially those located within areas served by the Angat Dam, to implement water conservation measures in coordination with the El Niño Task Force and the National Water Resources Board (NWRB).
Angat Dam supplies 97 percent of Metro Manila's water needs.
"There is an urgent need to implement water conservation measures to avert a looming water crisis and in order to attain at least a 20 percent reduction in water consumption especially within the areas served by the Angat Dam, including Metro Manila and parts of Cavite, Rizal and Bulacan provinces," the AO read.
The AO specified that a massive information campaign and various advocacy programs on water conservation in traditional and social media platforms, schools, subdivisions, and government offices will be launched by the El Niño Task Force, in coordination with the NWRB, MWSS, Local Water Utilities Administration, Department of Human Settlements and Urban Development, Department of Education, Commission on Higher Education and the Presidential Communications Operations Office.
Local government units (LGUs), especially those within the areas served by the Angat Dam, are required to issue advisories and enact ordinances that will protect water supply within their respective jurisdictions.
Failure to comply would result in the filing of appropriate administrative cases pursuant to the Civil Service Commission rules.
Earlier, the NWRB projected that the water level in Angat Dam will be below its normal high operating level of 210 meters from the months of January to March 2020 and below its minimum operating level of 180 meters from the months of April to May 2020.
Based on these projections, the NWRB has reduced the water allocation for the MWSS from its normal demand of 44 cubic meters per second (mps) to 40 mps for January 2020.
The NWRB also reduced water allocation for the National Irrigation Administration (NIA) to 20 mps or 50 percent of the total allocation requirement of the NIA for the dry cropping season in agricultural areas served by the Angat Dam, such as the provinces of Bulacan and Pampanga.
Earlier this month, Environment Secretary Roy Cimatu has assured that there will be "enough water" in the country this year.
Malacañang is also relying on Cimatu's promise that there will no water service interruptions in Metro Manila.
Last year, Duterte reactivated the El Niño Task Force, formed in 2001 under former President Gloria Macapagal-Arroyo, to mitigate the effects of the dry spell in the country.
El Niño is a weather pattern that generally results in reduced rainfall. (PNA)