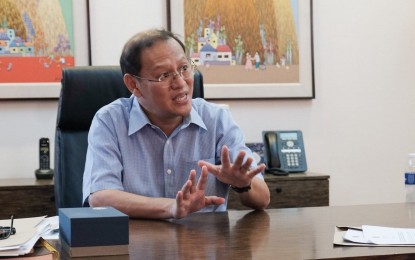 MANILA – A barangay (village) chairman in Marikina City will face charges for disseminating false information on the coronavirus disease 2019 (Covid-19) which caused panic among his constituents.
Marikina Mayor Marcy Teodoro said Barangay Tumana Chairman Ziffred Ancheta will be facing charges for Unlawful Means of Publication and Unlawful Utterances pursuant to Article 154 of the Revised Penal Code in relation to Republic 10951 or the Anti-Cybercrime Law.
Ancheta, in a Facebook live video at around 1 p.m. Thursday, announced that a resident in the village has contracted Covid-19.
The City Health Office and the Marikina Rescue 161, however, immediately refuted such information.
Dr. Alberto Herrera, City Health Officer, said the subject PUI (Person Under Investigation), who was working as a security guard in Greenhills, is not a Covid-19 positive or confirmed case, contrary to what Ancheta said in his Facebook live.
He noted that only the Department of Health (DOH) can disclose any information on a Covid-19 case through the Research Institute for Tropical Medicine (RITM).
The DOH should be the one to inform the concerned local government unit, CHO, and its City Epidemiological Surveillance Unit (CESU), to conduct the health intervention such as contact tracing, monitoring of the members and relatives contacted of the positive patient within 48 to 72 hours, disinfection activity and other health preventive and control measures.
In a letter to Department of the Interior and Local Government (DILG)-Marikina OIC-Director, Alona Raymundo, Rescue 161 Chief Dave David said what Ancheta did was "in direct violation" of the protocol set forth by the DOH in informing the public about Covid-19 cases, thereby causing fear, panic, and trauma to residents of Barangay Tumana."
Teodoro, meanwhile, appealed to the public to be responsible in sharing information on social media.
"I am urging everyone to be responsible when posting on social media, especially about Covid-19. This is not the time for panic. During these trying times, we must come together as one family to help each other," he stressed.
In Taguig City, Mayor Lino Cayetano immediately reprimanded the chiefs of Barangays Tanyag and Pinagsama, whom he refused to identify, for not complying with social distancing measures.
This came after residents of these villages were allowed to roam freely in markets in the area.
Cayetano ordered the closure of all establishments within the area and said the city government will now take over the enhanced community quarantine operations in the barangay.
"Only one person per family will be allowed to leave their homes. Violators will be apprehended," he said.
The city government will take over the distribution of the goods in the barangay, Cayetano said.
Earlier, Interior Secretary Eduardo Año urged barangay (village) officials anew to strictly implement the enhanced community quarantine in Luzon to prevent further spread of the coronavirus disease 2019 (Covid-19).
He warned barangay officials who refuse to perform their duties and obligations may face sanctions.
He also encouraged residents to report irresponsible barangay officials.
The DILG has set up an emergency operation center with hotline numbers at (02) 8876-3454 local 8806/8810 to monitor the implementation of directives and measures against Covid-19 in local government units.
The DILG Public Assistance and complaint center (PACC) also remains operational and can be reached through its hotline: (02) 89250343. (PNA)