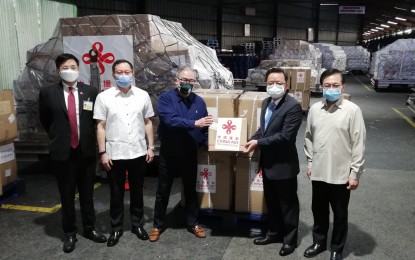 MANILA – A total of 100,000 test kits for the coronavirus disease 2019 (Covid-19) arrived in the Philippines early Saturday, the second batch of donations from the Chinese government.
In a ceremony held in Parañaque City, Chinese Ambassador Huang Xilian turned over the test kits, along with at least 10,000 pieces of n95 masks, 100,000 surgical masks, and 10,000 personal protective equipment, to Foreign Affairs Secretary Teodoro Locsin Jr. and representatives of the Department of Health (DOH).
Dr. Joel Buenaventura, chief health program officer of the DOH's Migrant Health Unit, said the test kits, called the Novel Coronavirus Nucleic Acid Diagnostic Kit (PCR-Fluorescence Probing), will be distributed from the Research Institute for Tropical Medicine (RITM) to sub-national laboratories.
Buenaventura noted that although a different brand from the first batch China donated on Monday, the newly arrived test kits are also RT-PCR-based.
"(The result) is still within a few hours. This is a PCR-based and not serum-based like (the ones released that are like) pregnancy test kits. We don't use a serum-based test for diagnosis," he told the Philippine News Agency (PNA).
Meanwhile, Locsin said Beijing's donation is "a tremendous help" as the Philippines addresses the Covid-19 situation.
"It is a model for what the rest of the world should be doing. Instead of blaming each other from what's happening, we should all start working together to help each other," he said in an interview.
Locsin also lauded the measures implemented by China in containing the disease, particularly its initial move to lock down Wuhan City.
"The measures China took at the start of the Covid-19 epidemic were the right ones and in fact, we have adopted it – the complete isolation of communities because it's the only way. Or as our president says, 'We need to starve the virus of victims. The one who showed the way is China,'" he said. (PNA)