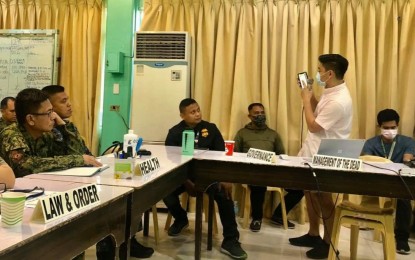 CEBU CITY – A Cebuano information technology or IT expert is now working with the authorities here on integrating a community tracker app that will help the Department of Health (DOH) in tracing people who came in contact with persons suspected of being afflicted with the new coronavirus disease (Covid-19).
Eddie Ybañez, developer of the "WeTrace", said the app is downloadable on a mobile phone and can be used to track the location of a user to generate patient mapping.
Ybañez introduced the community tracker before the Joint Inter-Agency Task Force for the Management of Emerging Infectious Diseases and the Regional Disaster Risk Reduction and Management Council (RDRRMC-7) at the Emergency Operations Center (EOC) of DOH-Central Visayas on Monday.
"All people who will download this app, their geo-coordinates will be saved by the app. We can then check who they came in contact with," Ybañez said in his presentation.
He said they expected those who are identified as persons under monitoring (PUMs) and patients under investigation (PUIs) to use the app to generate a location map that will help facilitate faster contact tracing by health and quarantine personnel.
The app will not collect personal information since the app does not require users to register, he assured the joint task force.
He said the system will generate a unique QR code on the mobile device and then starts tracking. The QR code or the device ID number will be the only identification trace of every user.
The team is currently working with the Cebu provincial government, DOH, Philippine National Police, and other concerned government agencies in an effort to integrate the app with the government's Covid-19 response and mitigating measures.
The app will trace a person's movement and establish the places visited and the people whom he came in contact with at a particular time.
Marlou Salazar, Office of Civil Defense-7 regional director, said they have invited Ybañez to present the app during the joint task force and RDDRMC-7 full council meeting later this week for recommendations and testing.
Ybañez's team is waiting for approval from Google and Apple for the app to be available for Android phones and iPhones before they can formally launch it to the public. (PNA)