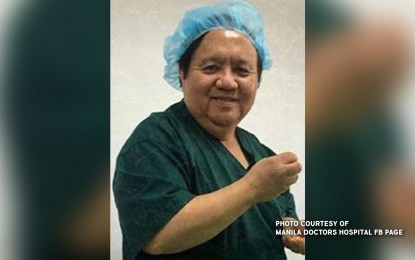 MANILA – As the country intensifies its battle against the deadly coronavirus disease 2019 (Covid-19), frontliners are sacrificing their time, efforts and lives amid the risks and exposure from the ones infected with the virus.
One of them is Dr. Romeo Greg Macasaet, an anesthesiologist from Manila Doctors Hospital who died recently due to Covid-19.
He earlier tested positive along with his wife, Evalyn, a fellow anesthesiologist.
Macasaet was hospitalized after exposure to Covid-19 patient who recently traveled abroad.
On Sunday, the Manila Doctors Hospital confirmed Macasaet's passing. His wife is currently under medication against the virus.
The entire hospital where he used to serve as a doctor mourns his passing, calling him "one of the best anesthesiologists in the country" and a "brave" frontliner.
Several Facebook posts are a statement to Macasaet's heroism.
Selfless, dedicated
Macasaet's godson, Aboy Paraiso, shared how he remained selfless amid the risks of Covid-19.
"If you know Ninong Greg, then like me you wouldn't be surprised at how everything unfolded and even his death speaks of the character of the man and his family. As he recounted to me, he and Ateng chose to stay when most of their colleagues chose to keep themselves safe and did not report for work," Paraiso said on a Facebook post.
Despite having an only son with special needs, Paraiso said the couple stayed at their posts and remained true to their oath and calling as doctors.
"And now Kuya Greg has made the ultimate sacrifice of life, not because he was forced or obliged to do so, but because of his dedication to his craft and his constant devotion to be of service to others," he added.
Before his passing, Macasaet sent a text message to Paraiso detailing his battle with the virus.
"Good evening, my beloved brethren! The turn of events is just no longer going in my favor. The feeling you get, aside from extreme pains all over, the difficulty of breathing and as if all life is being sucked from your body. They will be putting cutdown lines and central tubes on me anytime soon. If they intubate me and place me on a ventilator, then the game is almost over," the text, which went viral online, reads.
Macasaet said if his wife survives, he wishes her and his son Raymond a long and happy life.
"Raymond, however, needs financial and emotional care for the rest of his life. Something I may no longer be able to fulfill. It Is my fervent hope that all of you may assist the rest of my family in our most difficult times," he added.
Paraiso replied to the request of his ninong.
"I promise to look after your family especially Raymond. I would be there in their times of need. Rest assured my brother that Raymond would have his Dad look after him and even if you're gone, he would be part of Keystone now and until I draw breath. I will forever cherish one of the last text messages we had that time that you have seemingly accepted the inevitable and I will try to fulfill your last wish for me, that I have a long and happy life as blessed as yours," he replied.
He encouraged those reading his post to share his ninong's story.
"I ask you to share his story, both in life and in death, that others may learn from it, and that in his sacrifice we may pay tribute to and honor all the men and women in the frontlines who, like him, are risking self and family to serve us and keep us and our loved ones safe," he said.
Paraiso also asked prayers for Macasaet's eternal repose and for the recovery of his wife Evalyn.
Macasaet, known as "Doc Greg" for his colleagues, family, friends, and clients, left a brave legacy in the battle against the public health crisis.
Another colleague, Jun David, said Macasaet was also an "avid photographer".
The Macasaet couple are just two of the doctors in the country specializing in perioperative care and administration of anesthetics.
Despite the risks that treating patients can also cause harm for health workers, those in the frontline take chance to lend their hands to those who need it.
Malacañang earlier mourned the passing of three doctors, including Macasaet's death.
Apart from Macasaet, cardiologist Israel Bactol from the Philippine Heart Center and oncologist Rose Pulido of the San Juan de Dios Hospital succumbed to Covid-19.
Malacañang reminded health workers to look after themselves as it was the only way they would be able to fulfill their duties.
As of March 24, the number of persons who have been infected by Covid-19 in the country has climbed to 501. (PNA)