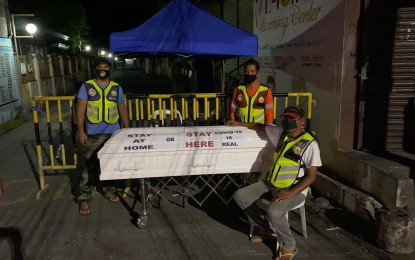 ORANI, Bataan — A quarantine checkpoint in a village here has a unique way of driving its point that new coronavirus disease (Covid –19) is a real threat as it is deadly.
Two white coffins, one each at two checkpoints in the major entry points of Barangay Mulawin, were displayed next to the barangay tanod or watchman on duty.
"Stay Home or Stay Here, Covid-19 is real," says the warning written on the coffins.
Village chief Marvin dela Cruz said they thought of using real coffins at the checkpoints to send a clear message to residents that they must abide with the enhanced community quarantine declared in Luzon.
He said they are strictly implementing the "no quarantine pass, no passage".
"To prevent the spread of the virus, stay at home for the sake of our family and the others," dela Cruz appealed to his constituents.
As of Tuesday, there are three Covid-19 cases in the province.
Latest report also showed that there are 5,688 persons under monitoring (PUMs) and 364 patients under investigation (PUIs) in Bataan. (PNA)