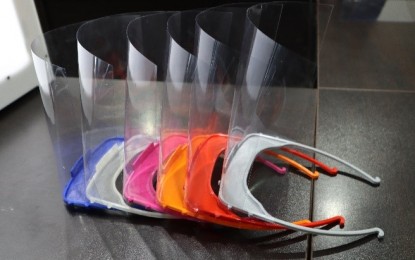 MANILA -- To help those in the frontline in dealing with the coronavirus disease 2019 (Covid-19) pandemic, an attached agency of the Department of Science and Technology (DOST) eyes producing as much as 10,000 3D printed face shields and donate these to health workers.
In an online interview with the Philippine News Agency (PNA) on Friday, Executive Director Enrico Paringit, of the Philippine Council for Industry, Energy and Emerging Technology Research and Development (PCIEERD), said they would produce as many as they can while printing supplies last.
Initial 1,000 pieces will be delivered to the Philippine General Hospital (PGH), he added.
"We estimate 10,000 face shields will be needed, but we understand that the demand is increasing. So to increase the production rate, we are strategizing to apply faster production methods like plastic injection mold," he said.
Paringit explained that practically every plastic product that we see uses injection mold, which is faster. A mold is yet to be created, he said.
Two hundred out of 1,000 pieces will be delivered to the PGH either Friday or Saturday, and the remainder will be delivered next week.
In producing the face shields, Paringit said PCIEERD already spent PHP500,000 for the materials. About PHP1.9 million is needed to produce 10,000 pieces.
He clarified, however, that PCIEERD did not have a separate budget for this, and instead, just realigned their resources. Materials on stock that were meant to be used for research and development were also rechanneled to produce the face shields.
Further, Omnifab 3D Technologies, which has the same machines as those that can be found in the DOST, volunteered to help in the production.
"Omnifab is cooperating because they have additional machines that can be used. The additive manufacturing sector is closely knit so they help each other," Paringit remarked.
As for the other hospital beneficiaries when more than 1,000 face shields are already produced, Paringit said PCIEERD would consult the Department of Health in identifying the needy hospitals.
PCIEERD have been producing the frames, while the acetates were donated by an association of semiconductors and professionals, according to Paringit. PCIEERD attaches the donated acetate into the frame.
He said PCIEERD eyes producing a mold made of metal by next week.
"There is a manufacturing company willing to produce (face shields) using the mold. They would fix their factory first so they could integrate the molds," Paringit said.
Production of 3D printed face shields would continue while waiting for the injection mold production to start.
"Once injection mode production starts, 3D printing will be devoted to other uses such as ventilators and pumps. We are currently discussing about these," Paringit said. (PNA)