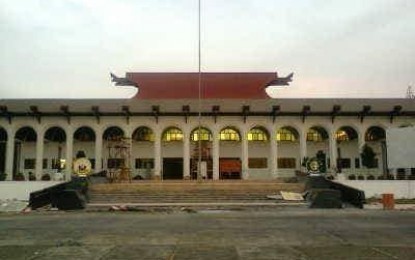 COTABATO CITY – The Bangsamoro Autonomous Region in Muslim Mindanao celebrated its first anniversary Sunday sans any fanfare due to the threats of the coronavirus diseases 2019 (Covid-19).
Instead, the BARMM has focused on service delivery for its constituents, as a way to make the anniversary celebration more meaningful and appropriate.
"We have prioritized to address the crisis brought about by the Covid-19, and that is, by giving essential assistance to the people of the region right now," BARMM chief minister Ahod "Murad" Ebrahim said in a statement.
The BARMM has replaced the decades-old Autonomous Region in Muslim Mindanao (ARMM) in the south, adding to its jurisdiction Cotabato City and the 63 villages in six towns of North Cotabato that have opted to join the fledging region in a plebiscite last January 2019.
Other area components of the BARMM includes the cities of Lamitan and Basilan; and the provinces of Maguindanao, Sulu, Tawi-Tawi, Basilan and Lanao del Sur, all part of the defunct ARMM political entity.
Since last week, the BARMM has embarked on a massive relief operation to communities across the region.
In Cotabato City alone, a total of 16,362 families are target beneficiaries for the massive relief operation which started on March 26.
Relief packs for 8,072 households from the city villages of Bagua 1, Rosary Heights 1, Poblacion 2, Poblacion 3 and Poblacion 7 have already been turned over to the barangay chairmen, who in turn will lead the door-to-door delivery to affected families.
Each relief pack contains 10 kilos of rice, canned tuna and sardines, corned beef, packs of noodles, and sachets of instant coffee.
Aside from this, each barangay also received medical supplies such as two thermal scanners, masks, gloves, personal protective equipment or Hazmat, and hygiene kits each containing a toothbrush, toothpaste, and soap intended for their barangay health workers.
"Our provincial offices through the Ministry of Social Services and Development are also doing the same relief operations. In fact, earlier this week, the MSSD-BARMM has downloaded an initial PHP7.3-million to its provincial offices to procure relief goods," Murad said.
On top of this, the Office of the Chief Minister (OCM-BARMM) also allocated a total of PHP155-million to all local government units (LGUs) in the region to address their needs in the fight against Covid-19.
Overall, each of the five provinces will receive PHP5 million, PHP2 million for each of the three cities, PHP1 million for each of the 116 municipalities, and PHP 8 million for the 63 barangays in North Cotabato as assistance.
"Due to the current crisis we are facing (due to Covid-19), I urge everyone to set aside their differences and unite to eliminate the threats of this disease," Ebrahim said. (PNA)