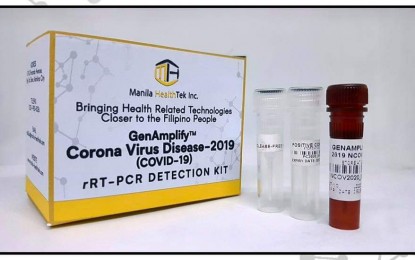 MANILA -- Field implementation of the University of the Philippines (UP)-developed diagnostic kit to detect coronavirus disease 2019 (Covid-19) is scheduled from April 4-25, Department of Science and Technology (DOST) Secretary Fortunato dela Peña said Monday.
"The (ongoing) field validation for 500 tests is up to April 1. We hope to get FDA (Food and Drug Administration) Certificate of Product Registration (CPR) by April 3," dela Peña said in a text message to the Philippine News Agency (PNA).
He added that the DOST funded the 26,000 tests for PHP53.2 million.
"Beyond that, Manila HealthTek's production is not covered by the DOST-funded project anymore," he said.
In a social media post, dela Peña announced that the Manila HealthTek told them that the first batch of reagents has arrived to enable the startup company to commence manufacturing the test kits that could accommodate up to 120,000 tests.
"A certain number of test kits that can do up to 26,000 tests will be prioritized by the DOST for field implementation and distribution to the Philippine General Hospital, Makati Medical Center, The Medical City, Vicente Sotto Memorial Medical Center, Southern Philippines Medical Center, and Baguio General Hospital," his post read.
Dela Peña told the PNA that 6,000 kits are already available.
"The rest will be produced immediately after the CPR is granted. These will be delivered as produced," he said.
He added the remainder or the kits that are good for up to 94,000 tests will be sold commercially by Manila HealthTek for around PHP1,300 per kit, cheaper than other kits being used in hospitals which cost around PHP8,000.
The Manila HealthTek said they have enough orders from the private sector who intend to donate these in turn to the Department of Health and other hospitals, dela Peña said.
According to the DOST, the UP-developed kit has a high specificity and efficiency through a one-step multiplex real-time polymerase chain reaction platform.
On March 9, the FDA issued a certificate of exemption for this locally-developed kit for use in field testing coupled with gene sequencing at the Philippine Genome Center. (PNA)