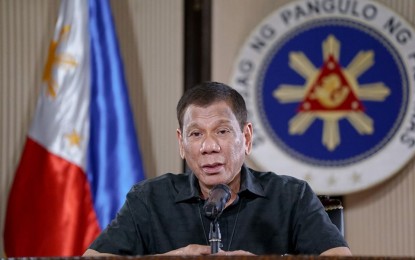 MANILA — President Rodrigo Duterte said he is inclined to extend the Luzon-wide enhanced community quarantine (ECQ) until April 30 to contain the spread of the 2019 coronavirus disease (Covid-19).
"If you really want to know, we have discussed it even before this, we are inclined to extend the lockdown up to April 30. Tingnan natin (Let's see what happens) after that)," Duterte said in a public address aired over PTV-4 late Monday night.
Duterte called on the public to cooperate with the government in reducing the risk of transmission by staying indoors and appealed for more patience as the government doubles its efforts to provide for their needs.
He asked the public to come together on Holy Wednesday and pray for success in beating "a common enemy".
He also expressed hope that the situation would improve when he delivers his next public address.
Earlier, Peace Adviser and National Task Force (NTF) Covid-19 chief implementer, Secretary Carlito Galvez Jr., said the government was studying whether to extend the quarantine for another 15 to 20 days after its scheduled end on April 12.
He said the next two weeks will be critical for observation since it has yet to be seen whether the quarantine has resulted in any significant flattening of the curve or decrease in the cases of infected persons.
On April 14, the government is expected to start mass testing in the National Capital Region (NCR) to identify and isolate all possible Covid-19 carriers, Galvez said.
Mass testing will also be done in Calabarzon, Central Luzon, Davao, and Zamboanga peninsula.
Cabinet Secretary Karlo Nograles said Duterte will take into consideration the recommendation of the Inter-Agency Task Force for the Management of Emerging Infectious Diseases (IATF-EID) in deciding whether he would extend or lift the quarantine.
He said the task force's recommendation was based on trends in the Covid-19 epidemiological curve including the doubling time, acceleration, or deceleration of new cases.
As of Monday, health authorities reported a total of 3,660 cases and 163 fatalities.
The task force also considered the health care system's capacity including the number and availability of quarantine, isolation, and treatment facilities; the capability to mount contact tracing; availability of Personal Protective Equipment (PPEs) to front-liners, and the testing capacity of the country, he added.
He said social, economic, and security factors will also be considered. (PNA)