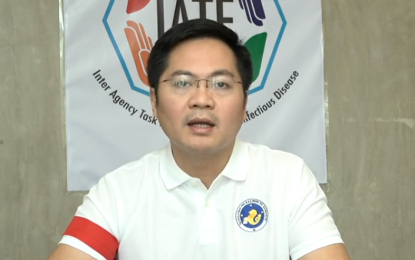 MANILA – The Inter-Agency Task Force for the Management of Emerging Infectious Diseases (IATF-EID) has approved the establishment of Bayanihan One-Stop Shop for government agencies that are responding to coronavirus disease 2019 (Covid-19) pandemic in the country.
In a virtual presser aired on state-run PTV-4 on Tuesday, AITF-EID spokesperson and Cabinet Secretary Karlo Nograles said the creation of the Bayanihan One-Stop Shop was approved by task force on Monday night.
"The recommendation of the Anti-Red Tape Authority (ARTA) for the creation of the Bayanihan One-Stop Shop for sectoral agencies involved in accreditation and logistics is hereby approved," Nograles said.
ARTA, along with the Food and Drug Administration (FDA) and Bureau of Customs (BOC), issued on April 2 Joint Memorandum Circular 01, which adopts the formation of Bayanihan One-Stop Shop for securing license to operate and to import critical commodities amid health crisis.
The Bayanihan One-Stop Shop will serve as a single window for all state agencies involved in the importation of critical commodities amid Covid-19 outbreak in the country, according to the joint memorandum.
Nograles said other sectoral agencies that intend to create their own Bayanihan One-Stop Shop should coordinate closely with the ARTA.
ARTA, FDA, and BOC signed Joint Memorandum Circular, as they recognized challenges in the importation process despite the streamlining efforts of concerned government agencies.
They noted that there is confusion on procedures for commercial importations of Covid-1 critical commodities by private entities.
They added that applicants still need to transact with individual government agencies separate, even if they are part of the entire importation process.
"Any delay or challenge in one government agency produces a domino effect across the other import processing agencies, which becomes unduly burdensome to the importer," they said. "There is, thus, an increasing public clamor and need for more efficient inter-connected processes, particularly in the commercial importation of Covid-19 critical commodities."
The joint memorandum, however, notes that the operation of the Bayanihan One-Stop Shop covers all commercial importation of sets of personal protective equipment, and other medical supplies identified by the Department of Health as "Covid-19 critical commodities" and need a license to operate from FDA.
The imposition of enhanced community quarantine in the island of Luzon has been extended by Duterte until April 30 to stop the further transmission of Covid-19 in the country.
Covid-19 infections in the country rose to 3,660, as of Monday.
Nograles said all quarantine measures set by the IATF-EID would remain in force during the extension of enhanced community quarantine in Luzon. (PNA)