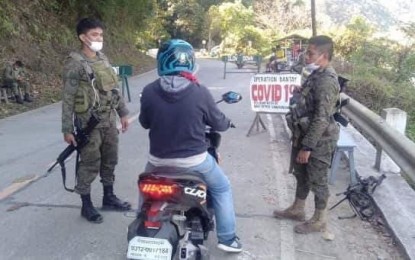 MANILA – President Rodrigo Duterte has approved the extension of the Luzon-wide enhanced community quarantine (ECQ) until April 30 to curb the transmission of the coronavirus disease 2019 (Covid-19).
In a virtual presser on Tuesday, Cabinet Secretary Karlo Nograles confirmed that Duterte approved the recommendation of the Inter-Agency Task Force for the Management of Emerging Infectious Diseases (IATF-EID).
"Vinerify po namin ulit at ang sagot po ay ang (We verified it with him again and his answer is the) enhanced community quarantine is hereby extended until 11:59 p.m. of April 30," Nograles, also IATF spokesperson, said.
Nograles said the IATF arrived at its decision since lifting the quarantine as scheduled on April 12 would be "too early" to allow medical experts to assess whether the rate of infection had slowed down.
Another reason to push for an extension, he said, is to allow more time to boost Luzon's health capacity as mass testing is expected to start on April 14.
"Kaya po humihingi tayo ng extension up to April 30 para ma-measure po talaga natin ano yung naging full effect ng ECQ, pangalawa para ma-increase pa natin lalo yung health capacity ng Luzon at ng buong bansa (The reason why we are asking for an extension up to April 30 is to measure the full effect of the ECQ and to increase the health capacity of Luzon and the whole country)," he said.
Nograles, meanwhile, said there is no need "right now" to expand the enhanced community quarantine in Visayas and Mindanao.
"We will continue to monitor Visayas and Mindanao. But they are not obliged or under ECQ," he said.
Citing medical experts, he said the incubation period for Covid-19 is on average 5 to 14 days which means they would only able to assess the full effect of the ECQ from March 29 to mid-April.
Every Monday, experts will report the "progression of the disease" per region to the IATF, he added.
With more Covid-19 test kits in stock, he said experts also said the government should be able to conduct 8,000 to 10,000 tests per day and results should also be released within a 24-hour turnaround time.
Once the country's existing subnational laboratories are maximized, he said the government will be able to conduct as many as 13,000 to 20,000 tests per day by April 27
The government should also be able to immediately isolate patients under investigation (PUIs) and persons under monitoring (PUMs) and enhance its contact tracing, he said.
On the other hand, he said Filipinos should also have observed better self-screening protocol.
He said the government goal is to flatten the curve or slow the rate of infection.
"Kung lahat po ng ito ay magagawa natin, sinasabi ng mga eksperto, maaari nating ma-push pa lalo yung peak ng Covid-19 dito sa Pilipinas as far as year 2021 (If we are able to do this, experts say, we can push the peak of Covid-19 in the Philippines as far as year 2021)," he said.
Should the ECQ be "relaxed" by April 30, Nograles said physical distancing must "remain constant."
"So ito yung sinasabi nating magta-transition tayo (So this is what we are saying that we will have transition) to the new normal. And the new normal, ladies and gentlemen, is social, physical distancing," he said.
Meanwhile, he also expressed hope that a vaccine would have been developed by 2021.
"We can push back and maintain that hanggang (until) 2021. By 2021, hopefully a vaccine is found," he said.
The entire Luzon is currently under an enhanced community quarantine from which strictly requires residents to stay indoors and limits movement to accessing basic necessities and heightens the presence of uniformed personnel.
As of Monday, the Department of Health said there are a total of 3,660 cases of Covid-19 in the country, 163 deaths and 73 recoveries. (PNA)