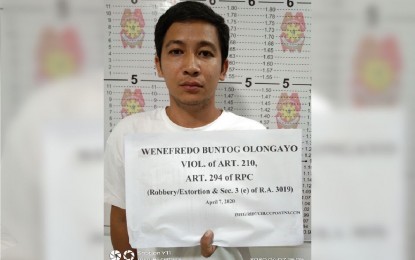 MANILA – A police officer in Cebu City was arrested for robbery-extortion on Tuesday, the anti-scalawag unit of the Philippine National Police (PNP) said Wednesday.
In a statement sent to reporters, Integrity Monitoring Enforcement Group (IMEG) chief Col. Ronald Lee identified the suspect as Cpl. Wenefredo Olangayo, who is assigned at the Waterfront Police Station 3 and his cohort Jevy Rea Gelig, a resident of Barangay San Roque Cebu City.
He said the internal cleansing of the PNP will continue amid the ongoing health emergency in the country.
"This is in line with our continuous effort to identify and arrest police scalawags despite the pandemic we are facing these days, as part of the massive internal cleansing program ordered by PNP chief Gen. Archie Gamboa," Lee said.
The suspects were arrested upon receiving an air-conditioning unit from complainant Reymart Villarmino in an entrapment operation in Sitio Silangan 2, Barangay Tejero, Cebu City.
Investigation showed that the suspects demanded the air-conditioning unit from Villarmino in exchange for the downgrading of drug charges against his brother Ramel.
The complainant sought the assistance of the Police Regional Office (PRO) 7 and PNP-IMEG.
The suspects are now under the custody of the PRO 7 and are facing administrative and criminal charges for robbery-extortion.
Lee called on the public to report the PNP personnel (uniformed and non-uniformed) involved in any irregularities to the PNP-IMEG hotlines: SMART -- 0998-970-2286 or GLOBE -- 0995-795-2569. Information may also be forwarded to Facebook Page: Integrity Monitoring and Enforcement Group. (PNA)