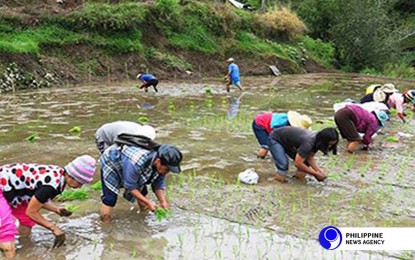 LEGAZPI CITY – Close to 90,000 small farmers in Bicol will get cash assistance of PHP5,000 each to enable them to cope with the difficulties amid the coronavirus disease 2019 (Covid-19) pandemic, the Department of Agriculture (DA) regional office said on Thursday.
In an interview, Emily Bordado, DA-Bicol spokesperson, said the agency would be spending PHP450 million to help an initial 89,882 farmers cultivating rice on not more than one hectare of land.
Receiving the first batch of cash assistance are 42,017 farmers in Camarines Sur; 21,353 in Albay; 13,459 in Masbate; and 13,053 in Sorsogon.
Bordado said the provinces of Camarines Norte and Catanduanes are not included in the package since these provinces are not major rice-producing areas in Bicol.
"Agriculture Secretary William Dar in his directive said 'our farmers will receive it as a direct cast transfer that they can use to buy farm inputs, food for their families or anything they need'," she said.
The cash assistance program called Financial Subsidy for Rice Farmers (FSRF) is part of DA's initiative to assist small farmers in 24 provinces not covered under the Rice Farmers Financial Assistance (RFFA) Program.
Bordado said to qualify for the FSRF cash aid, the names of the farmers should be on the master list of those enrolled in the Registry System for Basic Sectors in Agriculture (RSBSA).
"The list of qualified beneficiaries will then be submitted to the Land Bank of the Philippines (LBP). The LBP shall then issue cash cards loaded with cash grants. The LBP shall also handle the distribution of these cash cards," she added.
Bordado said the beneficiaries would receive the cash assistance next week after the Holy Week break. (PNA)