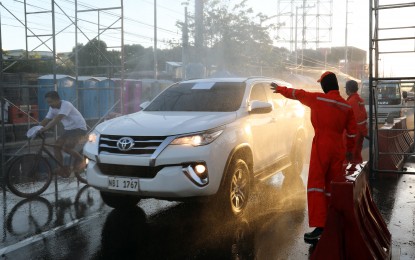 MANILA – Two-thirds or 66.6 percent of residents in Metro Manila approve the manner in which President Rodrigo Duterte and the national government are responding to the coronavirus disease 2019 (Covid-19) pandemic, a political consultancy firm said on Wednesday.
Those who either disapprove or strongly disapprove are at 16.4 percent while 17 percent replied neither.
"Overall, the response of the President and the National Government to Covid-19 has a net approval of +50.2. Only the second and third-lowest income groups registered a net approval rating higher than the average at +65.36 and +56.89, respectively," PUBLiCUS Asia Inc. said in its NCR Covid-19 panel survey.
While the chief executive and the government have a positive net approval among all income groups, PUBLiCUS executive director Aureli Sinsuat noted that the lowest was observed in both the richest of the rich and the poorest of the poor.
The respondents with a monthly household income between PHP114,240 and PHP190,400 registered a net approval of +9.09, while the group earning less than PHP9,520 per month was at +34.33.
A slim majority of respondents or 53 percent also approve of the Department of Health's response to the disease, while at least 21 percent disapprove and the remaining 26 percent answered neither.
PUBLiCUS conducted the online panel survey from April 2 to 6, with a sample consisting of 1,000 Filipino residents aged 18-70 in Metro Manila.
Of the total respondents, 47.5 percent said they are doing "good" or "very good" under the enhanced community quarantine in Luzon.
Those who consider themselves in a "bad" or "very bad" condition are around 15 percent, while the remaining 37.5 percent responded neither good nor bad.
The survey also found out that 25.1 percent of the respondents only have food and water supplies that could last for less than a week.
With the survey, Sinsuat believes relevant offices would get a gist of the public's perception and situation amid the Covid-19 pandemic in Metro Manila
"Our main goal here with the survey was to really give national and local leaders the information that they need to calibrate their Covid-19 policy programs in a way that people needed," he said. (PNA)