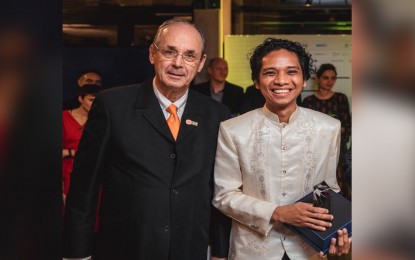 MANILA – For the first time, a Filipino emerged as the World Summit Awards (WSA) Global Champion under the Young Innovators category for 2020.
Ryan Gersava, 26, of Sultan Kudarat, bested some 407 entries from 91 countries for establishing the pioneering virtual school, "Virtualahan", which equips persons with disabilities and members of other disadvantaged groups with digital skills and a mindset to become competitive employees and entrepreneurs.
Integrating life coaching with career guidance and leadership development, Virtualahan harnessed the power of technology to give people a fair fighting chance to get out of poverty.
Gersava is in fact the first Filipino to win in WSA not just in his category. His firsthand experience of being denied access to better employment opportunities due to a chronic medical condition provided the impetus for him to find a social enterprise that specifically caters to marginalized sectors such as out of school youth, solo parents, recovering drug addicts, and former sex workers.
To date, Virtualahan boasts of more than 350 graduates, with a 78 percent employment rate.
Philippine Ambassador to Austria Maria Cleofe R. Natividad hailed Gersava's victory as a well-deserved win that comes at a time when the Philippines and the world are in need of hope and inspiration.
In congratulating and thanking Gersava, Natividad said, "By making it your life's work to create opportunities for the disadvantaged -- as only someone who has personally overcome hardships can -- you have set an excellent example of passion and perseverance for the Filipino youth.
"Your story is both challenge and testament -- a reminder that the empowerment of the marginalized is an imperative of a just and humane society; and a proof that the human spirit triumphs over the human condition," Natividad added.
The WSA Young Innovators is a special recognition for young entrepreneurs under 26 years of age, who use digital innovation as a way of tackling the United Nations Sustainable Development Goals.
The awarding ceremony took place on March 11, 2020 in Vienna, Austria, a few days before the lockdown due to the coronavirus disease. (PR)