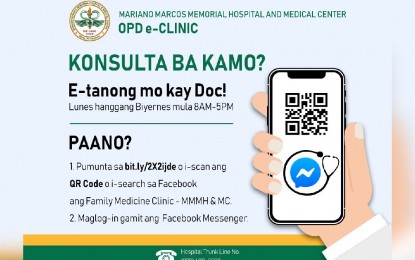 BATAC CITY—The state-run Mariano Marcos Memorial Hospital and Medical Center (MMMH&MC) here has stepped up efforts in reaching out to patients amid the coronavirus disease 2019 (Covid-19) outbreak in the country by offering free online medical consultations through its e-CLINIC.
Jhey-ar Mangati, Health Education and Promotions Officer of MMMH&MC, said the e-CLINIC is an initiative which ensures that Ilocanos continue to have access to necessary and immediate medical services without having to physically go to the hospital.
Through the e-CLINIC, patients may avail of a free medical consultation by logging in to the Facebook Messenger application and sending a message to the Family Medicine Clinic-MMMH&MC, where physicians from the hospital's Department of Family and Community Medicine shall answer their concerns.
Dr. Maria Lourdes Otayza, Medical Center Chief II of the MMMH&MC, said "incorporating the creative use of technology in bringing closer the hospital's health services specially in the middle of an enhanced community quarantine is the order of the day".
The e-CLINIC also includes free psychological and psychosocial services support services to assist and ensure that the mental health of essential employees and front-line health workers, patients who are under investigation and monitoring for Covid-19 as well as their watchers, and relatives of patients experiencing mental health concerns are not compromised specially during these times.
The Mental Health Team of the hospital can be reached through its mobile numbers 0927-152-9030 and 0951-722-6162.
At present, there are two Covid-19 patients under the hospital's care and both are in stable condition. (PNA)