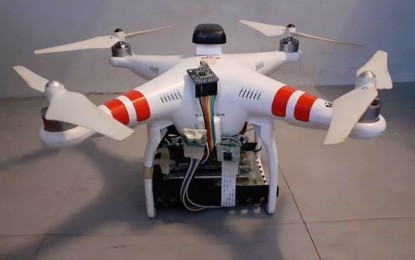 MANILA -- With the checking of temperature becoming a requirement almost everywhere, the Department of Science and Technology (DOST) funded the production of six units of mobile artificial intelligence (AI)-enabled thermal scanners mounted on drones, to help minimize contact between individuals in checkpoints.
DOST allotted PHP561,000 to cover the cost of labor, materials and equipment to produce the system, and other costs that may be incurred during pilot testing.
Startup company DWARM Technologies developed and produced the system, while Far Eastern University (FEU) and UPSCALE Innovation Hub served as technology business incubators.
In an email correspondence with the Philippine News Agency (PNA) on Thursday, DWARM Technologies team leader Samantha Bautista said the unit will work somehow similar with an airport thermal scanner.
"Immediate identification of a person is made through the AI developed for detecting a person," she said.
If a person has a high temperature, the operator will receive an alert, the picture of the person with a high temperature would be taken, and a buzzer would make a sound, she added.
According to DOST, these AI-enabled thermal scanners mounted on drones could provide real-time data transmission, are equipped with GPS, and has a 2-km range for communication between the system and the base station.
The six units, Bautista said, will be pilot tested in Caloocan and Quezon City.
"Hopefully, other LGUs (local government units) will adopt the technology upon successful deployment," she said.
Bautista said the target for deployment is before the end of April.
"We are currently procuring other materials needed, which is estimated to be completed this week. (It takes about) one to two weeks to replicate the system," she said.
Meanwhile, other industry partners in the development of this project are the Orbital Exploration (OrbitX) Technologies, and PLDT Innohub, Bautista said. (PNA)