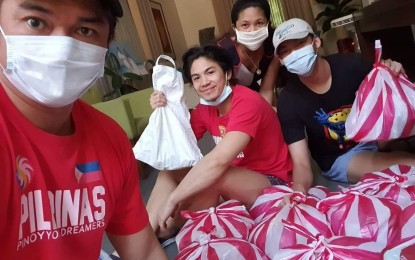 MANILA – The Filipinos' "Bayanihan" spirit is alive even in sports.
The Pinoy Youth Dreamers (PYD), headed by well-known coach Beaujing Acot, continues to take a more active role in providing much-needed assistance not only in the sports community but to various front-liners in the battle against the coronavirus disease 2019 (COVID-19) pandemic.
"Even before this Covid-19 pandemic, we are already trying to help our friends in whatever way possible. We provide scholarships and conduct outreach and feeding programs. In PYD, we care a lot," said Acot, who established the basketball-oriented program seven years ago.
"And with this worldwide pandemic which greatly affected lives due to the enhanced community quarantine, we feel it is part of our obligation to lend a helping hand not only to our friends in sports but to our front-liners as well," added Acot, also the coach of Makati Super Crunch in the MPBL.
With the help of his wife Bliss and children Bailey and Baffy and friends in the sports community, PYD has already provided assistance to workers in the sports community, including referees and table officials.
Assistance was also given to hospital workers, policemen, MMDA, barangay security force, construction workers and garbage collectors.
Among the hospitals whose front-liners have benefitted from the PYD Cares program are East Avenue Medical Center, Rizal Medical Center, Mandaluyong City Medical Center, Santa Ana Hospital, Medical Center Manila, Quirino Memorial Medical Center, Cainta Municipal Hospital, VRP Hospital, Philippine Orthopedic, UST Hospital, National Center for Mental Help, Ospital ng Paranaque, Quezon City General Hospital, Ospital ng Makati and Philippine Heart Center.
"The PYD is really fortunate to have friends in the sports community who are willing to share their blessings during this most trying time," Acot said.
A former UST Tigers coach, Acot thanked Xavier Alumni Batch 92, Gary and Cathie Altuna (Abu Dhabi), Tan and Chinky Acot-Garcia (California), Andre and Marga Go (Purple Elephant), Ruel and Giselle Alvarez-Pili (PA Properties), Congressman Fidel Nograles, Paulo De Castro (MPBL), Coach Ricky Magallanes (USA), Jonathan David and Family (SR), Vino Veluz (Buddy's Pancit Lucban), Paolo Orbeta (MPBL-Makati Super Crunch), Allan Castro (Xavier '92), Mark Boceta (SOL '94)-LA California, Alsim Tacud (BSA Pasig), Ron and Edith Torres (South San Diego), Carlton Sotto (SFN), Perry Maravilla (Malabon), lawyer Charlie Cuna (SR), Dennis and Emily Balajadia, Jason Tobillo, Oliver and Cristina Horsburgh (Papua New Guinea), Joel and Girlie Caluste (Bacolod City), Rissa Gesalem (Cebu City, Maynard and Jessa Marcellano (Singapore), Francis Tiu (Mang Yelo and Mr. Yelo and BBNC Tube Ice), Civil Defense Action Group (CDAG) and Team Network Fire and Rescue Department, Tess Concepcion, Nancy's Delite, Harold Villanueva (JH Athletics), Eric and Mitch Concepcion-Reyes and Lily Vergara.
Assisting Acot are PYD Cares front-liners Harpinder Singh, Jocelyn Jacob, Coach Vengie Gabales and Coach Lito Jacob, and volunteers Coach Keno Bautista and Brian Ligtas. (PR)