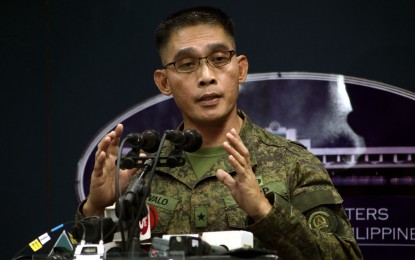 MANILA – An official of the Armed Forces of the Philippines (AFP) said Sunday the recent arrest of six members of Anakpawis who were flagged down in Bulacan for violating strict quarantine protocols shows that the militant marginalized sectors' group is using the difficult situation of Filipinos to advance their interest in discrediting the many efforts of the government during this health crisis.
"They will devise ways and means to mainstream their agenda," said Marine Brig. General Edgard Arevalo, AFP spokesperson, referring to the Anakpawis group that was later found to be in possession of anti-government paraphernalia in food packs.
Adding that there is nothing wrong with helping needy kababayans, other well-meaning private individuals and corporations, he said, are heeding the government's call to help our fellow Filipinos.
"But they do so with genuine desire to help. Nothing of this sort of effort of Anakpawis to distribute some goods loaded with anti-government propaganda materials," he said.
Grand scheme
Meanwhile, a former member of the Communist Party of the Philippines (CPP) on Sunday said the incident unveils the communists' plan of conducting political agitation during this time of coronavirus disease 2019 (Covid-19) pandemic.
"It appears now that the incident today in Norzagaray, Bulacan is part of a grand scheme of political agitation and inciting activities of the CPP-NPA-NDF (New People's Army – National Democratic Front) through their scam operations packaged as 'Sagip kanayunan, tulong sa masang Anakpawis'," said alias Rolly, former CPP cadre.
Rolly said the anti-government propaganda materials hidden among the 50 relief food packs that were meant for distribution is Barangay Bigte, Norzagaray expose the communists' nationwide grand scheme for their operational interventions in their so-called 'mass base areas' in the rural communities.
This, he said, aims to augment their efforts with their armed group, NPA.
"The CPP is mobilizing its 'legal organizations and alliances' to put up the masquerade activities," he added.
He vowed to expose communist terrorist groups' schemes to the public and forewarn local government units (LGUs) and security sector agencies.
"All these are geared towards their attacks on the efficiency and competence of President Rodrigo Duterte and the entire government," he said
Rolly bared that in fact, CPP chairperson Joma Sison has already issued a directive to their 'legal operators' to endeavor alliance initiatives with different LGUs and local officials in order to link-up their schemes of political agitation using the platform issues of the Covid-19 crisis.
Meanwhile, Norzagaray police chief, Lt. Col. Jaime Quiocho, said one of the Anakpawis members arrested in a checkpoint at the boundary of Norzagaray and San Jose del Monte City in Bulacan at around 11 a.m. Sunday is a student of Polytechnic University of the Philippines.
Raymar Guaves, 21, of Bahay Toro, Project 8, Quezon City, and five others were held after failing to present pertinent quarantine travel passes when the public utility jeepney (PUJ) they were riding was flagged down in a checkpoint.
Guaves' five companions were identified as Karl Mae San Juan, 29, of 58 Road F. Project 6, Quezon City; Marlon Lester Gueta, 26, of Chesnut St. Good Harvest Park Subdivision Barangay 172, 1422, Caloocan City; Robero Medel, PUJ driver, 52, of 65K 10th St. Kamias, Quezon City; Eriberto Peña Jr., 60, of Ricafort, Purok 08 Tingkong, Mangga, San Jose Del Monte City, Bulacan; and Tobi Estrada, 22, of 4B West Teachers Village, Malingap St., Quezon City.
Upon inspection of the jeep, Norzagaray police personnel manning the checkpoint found 50 food packs and anti-government materials including a tarpaulin with markings that read "SAGIP KANAYUNAN AND TULONG ANAKPAWIS".
The group was reportedly bound for Kalye 11, Barangay Bigte, Norzagaray to distribute food packs containing rice with vitamin tablets, and hygiene kits, among others.
The relief packs were later turned over to Barangay Bigte officer in charge Rose Cappa.
Quiocho, in a telephone interview, said Gaves and his companions, who claimed to be just Anakpawis volunteers, were brought to the Regional Police Office (PRO) 3 in Camp Olivas, San Fernando, Pampanga where a case of violation of Bayanihan to Heal as One Act is being prepared against them.
President, on March 25, signed into law RA 11469 otherwise known as the Bayanihan to Heal as One Act, which is valid for three months unless extended by Congress.
Section 6 of the Bayanihan to Heal as One Act lists down the penalties and violations of the law, including imprisonment of two months or a fine of P10,000 to P1 million or both.
According to Quiocho, PRO-3 Director, Brig. Gen Rodel Sermonia, lamented that behind the help extended by some groups like Anakpawis is the motive to lambaste the government.
Sermonia said this is instead the time to help all government agencies in fighting the dreaded Covid-19. (PNA)