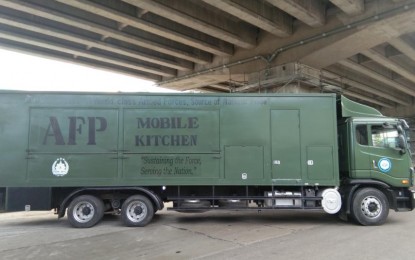 MANILA – The Armed Forces of the Philippines (AFP) on Monday announced that it will deploy its mobile kitchens to provide free hot meals to homeless people, who are severely affected by enhanced community quarantine (ECQ) being implemented in Luzon in wake of the coronavirus disease (Covid-19) outbreak.
In a statement, Navy Captain Jonathan Zata, AFP public affairs office chief, said this effort will complement government efforts to assist street dwellers.
Under the "Kapwa Ko, Sagot Ko" campaign, around 3,000 disadvantaged individuals and families will be given free hot meals once a day starting Monday.
Zata said Purok 1, 2 and 3, of Barangay Tatalon, Quezon City will be the pilot project site for the activity before possibly shifting to other adjacent communities.
He said provision of meals through the AFP mobile kitchen follows ECQ protocols which limit civilian movements and activities outside their residences. "Other identified beneficiaries include stranded workers or students receiving little or no support, informal settlers and families in depressed communities," Zata said.
He added culinary-trained soldiers will be deployed onboard two military kitchen trucks tagged as "Vessels of Blessings".
These troops will prepare the meals every day while support personnel will deliver them to designated drop-off points.
The project is being implemented by the Civil Relations Service AFP (CRSAFP) led by its commander, Maj. Gen. Ernesto Torres Jr. It tapped the help of partner stakeholders and donors to enliven the "bayanihan" spirit amid the threat of the Covid-19 pandemic in the country.
"Those who wish to contribute and be part of "Kapwa Ko, Sagot Ko" campaign whether through the use of military resources or donations, may coordinate with the CRSAFP," Zata said. (PNA)