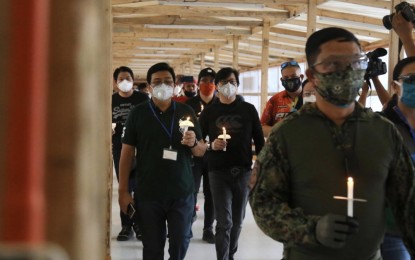 CEBU CITY – A field isolation facility here for individuals who have tested positive for coronavirus disease 2019 (Covid-19) is now operational.
Mayor Edgardo Labella and Dr. Jaime Bernadas, director of the Department of Health (DOH) in Region 7, inspected the Bayanihan Cebu Field Center-Sacred Heart School Ateneo de Cebu along Gen. Maxilom Avenue.
This facility is among the three field isolation centers constructed to prepare the city for the worst-case scenario amid the health threat of the Covid-19. The other two are still under construction.
"SHS Bayanihan Cebu field center which is among the three facilities in Cebu City that will accommodate Covid-19 patients (is now open). This is part of Cebu City's preparation against the Covid-19 virus in cooperation with the CCHD (Cebu City Health Department), DOH-7, OPAV (Office of the Presidential Assistant for the Visayas), Sacred Heart School Batch 85 Foundation and other volunteers," Labella said.
A statement from OPAV said the SHS Bayanihan Cebu field center is among the two facilities built in Cebu to accommodate mild and moderate positive Covid-19 patients.
The facilities "are designated health centers that will house patients who may be exhibiting symptoms or may have been exposed to coronavirus. The said field centers will also house a quarantine area for patients who may not have the resources or facilities to self-isolate," the statement read.
Edmun Liu, convenor of Bayanihan Cebu PH said that Bayanihan field centers will be supervised by the DOH-7 and supported by Presidential Assistant for the Visayas Secretary Michael Lloyd Dino.
"After one day cleanup and finishing touches tomorrow (Monday), the dry run will be done this Tuesday. Assuming no hitches, the center will be activated on Wednesday, April 22," Liu said.
He said the SHS field center situated inside the old Sacred Heart School for Boys campus on General Maxilom Avenue will have a 50-bed capacity.
Prior to the simple blessing on Sunday, the Negative Air Pressure Facility was constructed to allow air flow to the isolation room of the Bayanihan field center. This system will protect neighboring communities.
"And as for air outflow, all inside air is sucked out through medical-grade Hepa filters that clean all the air coming out. This is actually the reason for the slight delay in construction because the design team worked with the medical team to ensure a totally enclosed air-conditioned facility," Liu said.
This isolation technique is being used in hospitals and medical facilities.
Liu also said the facility is air-conditioned.
Kenneth Cobonpue, chair of the Regional Development Council (RDC) in Central Visayas, commended the SHS administration for allowing the use of their campus for the field center.
Dino and members of the SHS Batch 85 Foundation also support the construction of another Bayanihan field center at the International Eucharistic Congress (IEC) Convention Center. This facility will be built in partnership with the Roman Catholic Church of the archdiocese of Cebu.
"This week, the Cebu City Quarantine Facility at Block 27, North Reclamation Area will also be operational. The Cebu City Government expects for the best, but prepares for the worst," Labella said. (PNA)