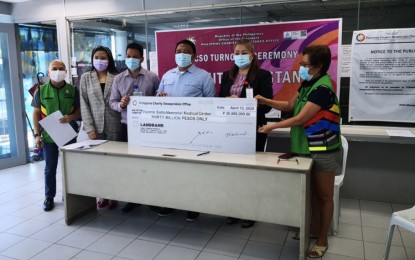 CEBU CITY – The Philippine Charity Sweepstakes Office (PCSO) has donated PHP30 million to the Vicente Sotto Memorial Medical Center Sub-National Laboratory (VSMMC SNL) to fund the purchase of equipment to be used in the fight against coronavirus disease 2019 (Covid-19).
Glen Jesus Rada, PCSO Cebu branch manager, said in an interview with the Philippine News Agency on Monday that officials from the national charity office signed a memorandum of agreement (MOA) last April 13 with VSMMC SNL officials for the transfer of the fund to the regional hospital's official account.
Rada said the parties initially agreed to use the fund in the purchase of personal protective equipment (PPE) and other equipment needed in running the sub-national laboratory.
The VSMMC is the only Department of Health (DOH)-run government hospital accredited to conduct laboratory test of swab specimens for Covid-19 in Central Visayas.
Out of the first 229 specimens, VSMMC SNL found 22 positive cases with one negative, later labeled as laboratory negative. Around 24 days later or on April 19, the center confirmed that the number of cases climbed to 190 with 23 laboratory negative, out of 118 swab samples.
"Initially, the PHP30-million fund the PCSO turned over to the VSMMC SNL will be used for the protection of our front-liners in the laboratory. The hospital's chief finance officer made a follow up with our social worker for the deposit of the fund as they want to use it for the purchase of necessary equipment like PPE," Rada said.
The hospital can also use the fund to pay for the bills of Covid-19 patients, he said.
After President Rodrigo Duterte signed Republic Act 11469 or the Bayanihan to Heal As One Act, Rada said PCSO general manager Royina Marzan Garma endeavored to raise funds for the national government's battle against Covid-19.
The Bayanihan to Heal As One Act enjoins government-owned and controlled corporations, including PCSO, to help and earmark funds for the government's battle against Covid-19.
Rada said Garma directed PCSO branches to donate financial assistance to 81 hospitals from 69 provinces in the country.
"We recommended to our central office to give financial assistance to provincial hospitals. But so far, the PCSO finds it urgent to fund the anti-Covid-19 program of the VSMMC," he added.
In Cebu, department manager Gloria Ybañez and Rada represented the PCSO in signing the MOA with Dr. Gerardo M. Aquino Jr., VSMMC chief, and other hospital officials.
Apart from the financial assistance, PCSO-Cebu also donated medicines to the towns of Alegria, Ginatilan, Tabuelan and Santa Fe. (PNA)