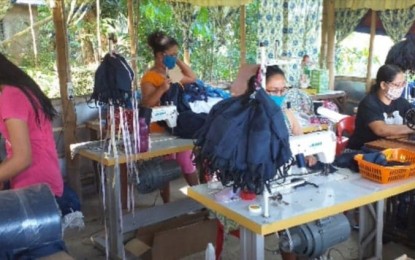 ILOILO CITY – The Iloilo Science and Technology University (ISAT-U) is optimistic that its research on the prototyping of equipment that can be used by medical front-liners in the fight against coronavirus disease 2019 (Covid-19) would turn positive.
"In our research, we are investing in the prototyping of ventilators, ultraviolet C (UVC) sterilizer, and swab booth for our front-liners," ISAT-U president, Dr. Raul F. Muyong said in a phone interview with the Philippine News Agency (PNA) on Thursday.
Muyong said they are preparing for the "rebound" when the need for these equipment increases.
He added that they have to prepare for June, July, August, September, and October.
The UVC sterilizer is essential to allow front-liners to reuse their hazardous material suits (hazmats).
The issue right now is that the protective suits are being disposed of after use so they have to produce more, Muyong said.
"We are requested by the chair of CHED (Commission on Higher Education) to work on this, being a university with facilities on fabrication laboratory (Fab Lab). Our Fab Lab here at ISAT-U is a shared service facility (SSF) provided by DTI (Department of Trade and Industry)," he said.
Being the host of the lone Fab Lab in Western Visayas, the university feels that it has a responsibility to help the government fight Covid-19, Muyong said.
"We are very much positive that through this research, we can produce something for humanity," he said.
The prototyping development spearheaded by the Office of Research and Extension, which is supported by the Department of Science and Technology (DOST) and CHED, began this April and is expected to be completed by December.
The study takes time, particularly for ventilators, which has to go through testing and analysis, as well as approval of the Food and Drug Administration (FDA).
The researchers also need the input of medical professionals who would be the end-users of the study.
The university first engaged in the production of washable face masks, face shields, and aerosol boxes.
It also assisted the Iloilo City government and Iloilo United Hazmat Volunteers in producing protective suits, such as hazmat jumpsuits and protective gowns for health practitioners in various Covid-19 centers and hospitals in Iloilo.
"We believe that ISAT-U has a social responsibility to help our front-liners and health practitioners in fighting Covid-19. As a university of science and technology, we have the capacity to produce washable face masks, face shields, aerosol boxes," Muyong said.
The department has mass-produced 12,285 washable face masks and is working on 15,000 more in preparation for the "new normal" when classes open in August.
"The new normal will require us to wear a face mask. Face mask is a must under the new normal," he said, adding that the university has 11,000 students in its campuses, excluding faculty and staff.
Muyong added that the completed face masks were distributed to the city and provincial governments of Iloilo, regional line government agencies, hospitals, barangays, and pharmacies.
On the other hand, with the use of the SSF Fab Lab, the university produced 2,033 improvised face shields that were distributed to local government units and hospitals and 50 aerosol boxes that are being used to intubate patients.
"We are closely working with our local government units in the distribution of face masks and face shields," he said, noting that they produce separate aerosol boxes for pediatrics, Ob-Gyne, and intubation of patients.
These boxes were sent to Capiz, Antique, Aklan, Iloilo, and even as far as Puerto Princesa in Palawan.
The aerosols were produced in consultation with medical doctors in Iloilo and the DOST through their health research.
"As long as there are requests, we will try to produce. But the challenge is materials," Muyong said. (PNA)