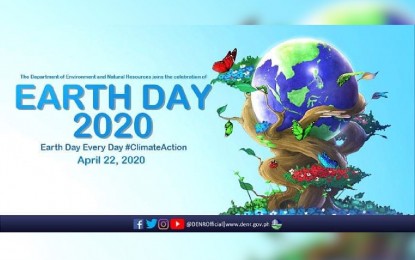 MANILA – Every April 22, Earth Day is being observed to demonstrate support for environmental protection.
But with the coronavirus disease 2019 (Covid-19) pandemic plaguing millions of people around the world, collective action among countries and stakeholders is of paramount importance.
For the Department of Environment and Natural Resources (DENR) Secretary Roy Cimatu, comprehensive and concerted action is a must.
In his Earth Day message shared on DENR's Facebook page, he said survival is at stake in both Covid-19 and climate change.
"The urgency of the need for concerted and comprehensive action, without waiting for the problem to peak or to impact millions more of people, is the same," he added.
With the Covid-19 pandemic, Cimatu said now is the perfect time for people to ponder the need for collective action.
"The damage from Covid-19 and climate change bring about destruction and chaos to any nation. On the one hand, with Covid-19, we are faced with an immediate gripping fear of losing more lives; on the other hand, with climate change, we are faced with rising sea levels, saline intrusion into aquifers, droughts, floods, and the results will impact billions of people, as well as biodiversity. However, with climate change, adaptation and mitigation responses are not as immediate because its impacts appear to be just merely creeping," his message read.
Cimatu noted that since the pandemic caused countries to implement lockdowns, the move resulted in clearer skies, more breathable air, cleaner seas, and more vibrant wildlife.
"For climate change mitigation and adaptation, our responses may be less drastic, as they generally require only lifestyle changes. But we must invest in and institute the necessary concerted reforms speedily and extensively before it becomes too late," he said.
Meanwhile, in an online correspondence with the Philippine News Agency (PNA), Greenpeace Philippines campaigner Virginia Benosa-Llorin said this year seems to be "doubly challenging" since people are not only facing an environmental crisis but are also confronted with the Covid-19 pandemic.

"We feel the impact of the pandemic, and we panic. I showed how our system is not prepared to deal with it. Climate change also poses a major threat to our health and survival, especially among the poor and the marginalized," she said.
Individually, she said, one may contribute by growing his/her own food, buying local produce, eating less meat and more vegetables, as well as by avoiding single-use plastics.
Benosa-Llorin added that the government should also prioritize renewable energy projects instead of focusing more on powerplants.
Burning fossil fuels, she said, is among the main drivers of climate change.
She said there is a need to make companies producing crude oil, natural gas, coal, cement, accountable for contributing to GHG (greenhouse gas) emissions, and climate change.
"We need to act together because taking action together brings more power. We need to talk more about climate change and help people understand it. More importantly, we need to take a bolder action as a community," she said. (PNA)