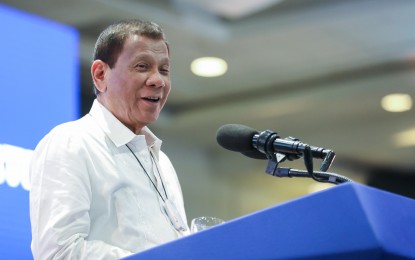 (Editor's note: We have updated this story to provide our readers with the link of the Gallup International Association surveys and other references. GIA's disclaimer posted on its website reads: "Gallup International Association or its members are not related to Gallup Inc., headquartered in Washington D.C. which is no longer a member of Gallup International Association. Gallup International Association does not accept responsibility for opinion polling other than its own. We require that our surveys be credited fully as Gallup International (not Gallup or Gallup Poll)" READ: About Gallup International)
MANILA – The majority of Filipinos have expressed satisfaction with the Duterte administration's response to the coronavirus disease 2019 (Covid-19) pandemic, according to the survey results released by global polling firm Gallup International Association.
Based on the April 6 to 8 poll, around 80 percent of Filipinos believed the government is handling the Covid-19 crisis "well".
Only 18 percent expressed dissatisfaction with the government's Covid-19 response, while two percent were ambivalent on the matter.
President Rodrigo Duterte has placed the whole island of Luzon under an enhanced community quarantine (ECQ), requiring people to observe strict home quarantine and limiting their movement to accessing basic necessities.
Duterte, however, has yet to decide on the possible total lifting, modified lifting, or another extension of the Luzon-wide ECQ, which is set to lapse on April 30.
Other local chief executives in Visayas and Mindanao have also imposed an ECQ to curb the spread of Covid-19.
The survey conducted by Gallup International also found that 86 percent expressed willingness to "sacrifice" some of their human rights, "if it helps prevent the spread of the virus".
READ: Second Wave of Global Polling, Gallup International
READ: Gallup International survey results
Only 12 percent said otherwise while the remaining two percent could not make a decision.
This developed as 88 percent admitted that they are "afraid" that either he or someone in his family may actually catch the novel coronavirus.
Gallup International, through its partner Philippine Survey and Research Center Inc., interviewed 867 Filipinos aged 18 and above.
An online method was used in conducting the survey in the Philippines.
In its website, Gallup International claims to be a "leading organization for marketing surveys and public opinion polls with 72 member agencies and coverage of 89 percent of the world market."
Members of the association, it adds, are "leading national institutes with profound knowledge of the local research methods and techniques, statistical sources, lifestyle and cultural differences for each country and are carefully selected by the board of the association."
On March 24, Duterte signed Republic Act (RA) 11469 or the Bayanihan to Heal as One Act, which grants him special powers to address Covid-19 pandemic in the country.
There are also PHP275-billion available funds for the national government to stop the contagion.
Around PHP200 billion of the PHP275 billion earmarked for the government's Covid-19 response would be spent for the granting of emergency subsidies ranging from PHP5,000 to PHP8,000 to around 18 million families.
The national government has also implemented stricter quarantine measures, which include the arrest of ECQ violators.
One of the provisions included in RA 11469 imposes a two-month jail sentence or a fine of up to PHP1 million, or both, on people who violate quarantine protocols. (PNA)
Also read:
Global fear of coronavirus on the rise, new poll shows
Global Picture: Respondents from India and Malaysia report highest level of satisfaction with their gov't