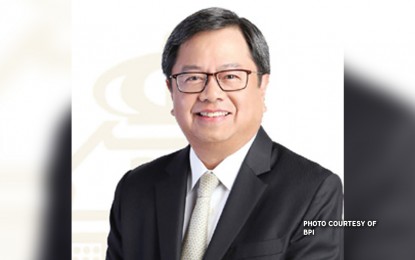 MANILA – The Ayala-led Bank of the Philippine Islands (BPI) on Thursday reported a 5-percent drop in net income in the first quarter of 2020 but figures are expected to get better in the second quarter.
"We have a very good reason to believe that the second-quarter earnings will hold up reasonably well even if there is a slowdown in economic activity and loan releases," BPI president and chief executive officer (CEO) Cezar Consing said in an online briefing on Thursday.
For the first three months of the year, the bank reported a net income of PHP6.39 billion, down from the PHP6.72 billion in the same period in 2019.
Revenues rose by 10.9 percent, year on year, to PHP25.26 billion, driven by the 12-percent rise in net interest income to PHP18.14 billion.
Non-interest income increased by 5.8 percent due to higher securities trading gains.
Year-on-year operating expenses rose by 3.8 percent to PHP12.53 billion.
BPI chief finance officer, Maria Theresa Javier, said during the same briefing that they earlier set a PHP23 billion provisioning for this year but "right now, those projections keep on moving," given the impact of the coronavirus disease 2019 (Covid-19) pandemic.
What is sure, Javier said, is the increase of non-performing loan (NPL) levels, which will need higher provisioning levels.
She said funds set aside for future losses reached as high as 100 percent after the Asian financial crisis in 1997 because the domestic economy at that time was not as strong as the current situation.
In 2008, or during the most recent global financial crisis, the impact on the domestic economy was not as high, thus, provisioning was lesser compared to a decade ago.
"How we see the Covid crisis (provisioning) is probably similar to 1997," Javier said.
In terms of remittance growth, BPI Corporate Banking head, Jonh-C Syquia, said they have observed a single-digit decline in remittance inflows that passed through their system to date.
Syquia said they forecast the drop to be at a low double-digit by mid-year.
"That's probably inevitable at this point. The line of employers abroad can only last so much until the global economy recovers," he added. (PNA)