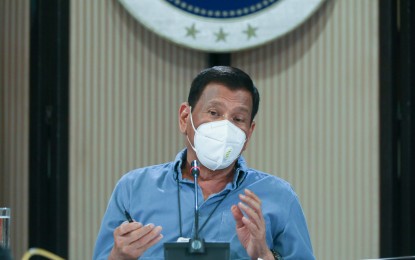 MANILA – President Rodrigo Duterte has clarified that he never made a pronouncement that he would declare a martial law amid the coronavirus disease 2019 (Covid-19) pandemic.
"I never said 'I will declare martial law' kasi 'yung martial law ho para lang 'yan sa mga rebelde, para sa mga komunista (I never said 'I will declare a martial law' because martial law is only for rebels and communists)," Duterte said in a taped public address aired Friday on state-run PTV-4.
Duterte made the statement after some individuals assumed that he might impose martial law following his recent warning about the possible police and military takeover of the enforcement of enhanced community quarantine (ECQ).
On April 16, Duterte told the police and the military to "be ready" to lead the implementation of ECQ, in case the number of quarantine violators continues to rise.
The 1987 Constitution states that the President can declare martial law, "in case of invasion or rebellion when the public safety requires it."
Duterte said he might only be compelled to declare martial rule in the event that lawlessness of the communist movement's armed wing, the New People's Army (NPA), persists.
He issued the latest warning, as he vented frustrations over the recent NPA attacks against government troops who are helping in the distribution of emergency relief to people affected by the Covid-19 crisis.
"'Pag nagpatuloy kayo ng lawlessness ninyo, patay dito, patay doon (If the lawlessness and killings continue) and it's happening all over the Philippines, maybe I will declare martial law," Duterte said.
Duterte cautioned the NPA rebels not to force him to take drastic actions against them.
He added that it would only be him who would know what type of martial law he might enforce.
"I am now warning everybody and putting notice sa armed forces pati police (to the armed forces and the police), I might declare martial law and there will be no turning back. Kung ano ang martial law na klaseng gagawin ko akin lang 'yan (It's only me who will know what kind of martial law I will impose)," Duterte said.
Trying the 'very best'
Duterte said the quarantine protocols were meant to stop the further transmission of Covid-19.
"Para lang ito sa bayan (It is for the country) because we are trying to limit the contamination," he said.
Presidential Spokesperson Harry Roque confirmed that ECQ will be once again extended in Metro Manila, Central Luzon, Calabarzon, and other areas that are "high risk" for Covid-19 infections until May 15.
Duterte assured the public that the government would not conceal the truth about the Covid-19 outbreak.
"Lahat nang sinasabi namin dito, totoo, walang sobra, walang kulang. At alam ninyo ang ginagawa namin (All we're saying here is the truth, no more, no less. And you know what we are doing)," he said.
Duterte also thanked the people who appreciate the government's response to Covid-19.
He assured that his government would do its "very best" to stop the contagion in the country.
"Kung nagustuhan ninyo, magpasalamat kami. 'Pag sinabi niyong kulang, then humihingi kami ng dispensa (If you are satisfied with our response, we are thankful. If you think we have shortcomings, we apologize). We'll try our very best next time," Duterte said.
Around 6,981 people in the Philippines have so far been infected with Covid-19.
Some 462 Covid-19 patients have died, while 722 infected individuals have recovered from the disease. (PNA)