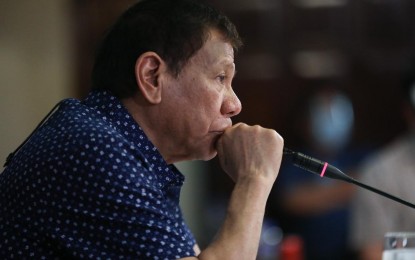 MANILA – Amid the coronavirus disease 2019 (Covid-19) outbreak, President Rodrigo Duterte has pledged to grant additional funding for the production of vaccines in the country.
Duterte made the vow, as he acknowledged that Filipino scientists need more funding for them to advance their vaccine research and development.
In a taped public address aired on state-run PTV-4, Duterte expressed willingness to spend all of the public funds to combat Covid-19.
Duterte ensured that he would "readily" provide additional money to boost the development and manufacturing of vaccines in the country.
"I'd rather spend all of our money in connection with Covid," he said. "So kung kailangan nila ng (if they need) additional funding, all they have to do is mag-sabi lang sila (is just make a request)."
Health Secretary Francisco Duque III, who was with Duterte during the televised briefing, said the Philippine Council for Health Research and Development (PCHRD) has sufficient funds to continue its research work for vaccine production.
Duque, however, admitted that he is not privy as to the vaccine the PCHRD is developing for the Covid-19.
"I'm not sure if this particular vaccine that they are developing is specifically for Covid-19," he told Duterte.
The PCHRD, which is under the supervision of the Department of Science and Technology, is a national body tasked to allocate government and external funds for health research and development in the country.
In a statement posted on its official website on March 18, the PCHRC said Filipino researchers are now doing a study on the new coronavirus' transmission patterns among confirmed cases and their contacts in the country to help policymakers create "better and evidence-based strategies in addressing the Covid-19 pandemic."
Duterte raised the reward money for the discovery of a vaccine against Covid-19 to PHP50 million from the original PHP100 million.
Malacañang also announced earlier that a "substantial grant" would be given to the University of the Philippines-Philippine General Hospital for the development of a vaccine.
It also asked the Food and Drug Administration to study the effectiveness of Fabunan, an anti-viral drug against dengue, in curing Covid-19.
On April 15, Duterte also expressed readiness to conduct clinical trials of Avigan, a Japanese anti-viral drug, for the potential treatment of Covid-19.
The Philippines has so far reported 6,981 Covid-19 cases, with 462 fatalities and 722 recoveries. (PNA)