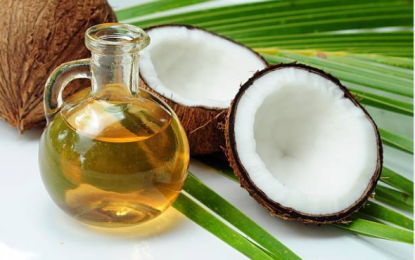 MANILA -- While looking at various ways on how research and science could help address coronavirus disease (Covid-19) pandemic, Department of Science and Technology (DOST) Secretary Fortunato dela Peña on Friday said Food and Drug Administration's (FDA) approval may be sought to make virgin coconut oil (VCO) a supplement.
During the "Laging Handa" public briefing, dela Peña said clinical trials will soon be executed to see the effectiveness of VCO in Covid-19 patients' recovery.
"The Ethics Committee already approved this yesterday. It (clinical trial) needs the patients' consent, but we know that VCO has no harmful effects and toxicity," he said, adding that VCO has antiviral properties.
"Pwede s'yang i-apply ng approval from FDA para gawing supplement (It can be applied from FDA, to make it a supplement)," he said.
Dela Peña said there would be two clinical trials -- a hospital based, and a community based trial.
Earlier on his social media account, he mentioned that the hospital-based clinical trial would assess the possible benefits of VCO if given to patients with moderate to severe Covid-19.
In the community-based study, on the other hand, VCO will be incorporated in the food provided to the patients, as well as their contacts and other high-risk groups.
The DOST will fund the two clinical trials, and will also give directions.
S&T's help
Meanwhile, dela Peña said he is happy that some of the DOST-funded projects are now being used for Covid-19 efforts.
Among these, he said, is the diagnostic kit for Covid-19, which was developed by researchers who previously made diagnostic kits to detect dengue and leptospirosis.
"This (diagnostic kit for Covid-19) was approved by the FDA for commercial use last April 3," he said.
The kit has a high specificity and efficiency through a one-step multiplex real-time polymerase chain reaction platform, according to the DOST.
Test kits that can do up to 26,000 tests will be distributed by the DOST to the Philippine General Hospital, Makati Medical Center, The Medical City, Vicente Sotto Memorial Medical Center, Southern Philippines Medical Center, and Baguio General Hospital until May 15, he said. (PNA)