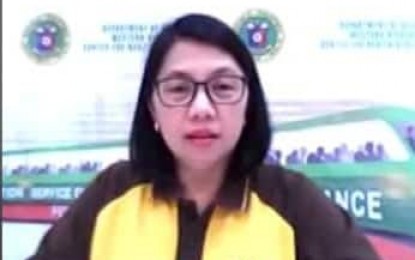 ILOILO CITY – Western Visayas gained three additional recoveries from the coronavirus disease 2019 (Covid-19), raising the number to 14 as of April 24, 2020, the Department of Health Center for Health Development Western Visayas (DOH-CHD 6) reported.
In a press conference, Dr. Renilyn Reyes, head of the DOH-CHD 6's Public Health Development Program, said the recovered patients included a 44-year old male from Jaro, Iloilo City; and a 40 year-old male and 66-year-old female, both from Kalibo, Aklan.
However, Reyes said that laboratory results that were released by the Western Visayas Medical Center (WVMC) sub-national laboratory on April 23 showed three new confirmed cases, bringing the total positive cases to 58.
The sub-national laboratory released a total of 192 results; five were positive but two were repeat tests of already confirmed cases and 187 were negative.
The three new cases include patient number 56 who is a 38-year-old male from Silay City while patient number 57 is a 50-year-old male from Candoni, both from Negros Occidental.
Patient number 58 is a 33-year-old female from Lambunao, Iloilo.
Reyes said that confirmed cases from Negros Occidental have a travel history abroad while the new case from Lambunao has a close contact with patient number 28 who in turn was exposed to patient number 16 who died on March 29.
"Patients 56 and 57 are both OFWs (overseas Filipino workers) and repatriate," she said, adding that both are at the provincial quarantine facility in EB Magalona.
Patient number 58 is under home quarantine and remains asymptomatic.
Meanwhile, in the same press conference, she said that DOH–CHD 6 has presented before the Regional Inter-Agency Task Force on Friday several modalities on the implementation of "strict protocols" regarding the screening of OFWs and strandees who will be returning to Western Visayas.
She said that DOH suggests the conduct of screening before they enter Western Visayas.
However, if it is not possible and there is a need for them to get repatriated, then DOH said it can be done upon their arrival.
DOH said they will be screened using the reverse transcription polymerase chain reaction (RTPCR) if test kits are available or use the rapid anti-body testing kits that are approved by the Food and Drug Administration (FDA).
"What we are asking is for local government units (LGUs) to designate a facility quarantine that is adequate to house our OFWs whether they would be positive or negative," she said.
She said that they will just wait for the signed IATF resolution as a result of their meeting on Friday. (PNA)